News
26 February 2010
Resort hotel lit by Cree LED Lighting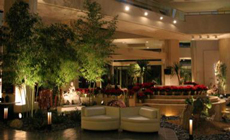 The Hyatt Regency Grand Cypress Resort in Orlando, FL, USA has installed LED lighting by Cree Inc of Durham, NC in order to boost its energy efficiency. One of Orlando's largest resorts, with close proximity to Walt Disney World, the hotel recently completed a multi-million dollar renovation that included replacing traditional, antiquated lighting fixtures in its 54 hallways, as well as its newly refurbished 10,000-square-foot lobby.
The Hyatt Regency Grand Cypress began its remodel to comply with the Florida Department of Environmental Protection's Green Lodging program, a voluntary initiative for hotels and motels across the state to adopt cost-saving green practices to conserve energy, reduce water consumption, protect air quality and reduce waste. Aiming to become a more environmentally conscious organization as well as reducing its extensive utility costs, resort management turned to Regency Lighting to consult on energy conservation measures and to install LED lighting throughout the hotel.
"Our lobbies and hallways are lit 24-hours a day, seven days a week," says the resort's chief engineer Rick Jackson. "Working with Regency Lighting, we were able to compare the cost and energy savings of Cree LED products with the traditional lighting we had been using," he adds. "The LED lighting installations in the hotel hallways and lobby are not only significantly reducing our electric bill and saving on maintenance costs, but are providing better-quality lighting."
The hotel replaced halogen lighting fixtures located between each hotel room with Cree LR6 LED recessed downlights. The LR6 fixtures consume just 10.5W of power (a 90% energy savings over the two 50W halogen bulbs they replaced). The LED downlights are also designed for a 50,000-hour lifetime, which can reduce maintenance costs while providing a clear, crisp quality of light. The second LED lighting application included exchanging existing halogen lighting in the lobby with Cree LRP-38 LED bulbs, saving more than 80% on energy consumption alone. The Cree light bulb was specified by Regency Lighting on the basis of its high color rendering index (CRI=92) and tightly focused beam (20 degrees), which are required for highlighting the lobby's palm trees and indoor garden.
"Accent lighting, like the Hyatt Regency Grand Cypress' lobby lighting, is often sacrificed when you make the switch to more energy-conscious lighting," explains Regency Lighting's Tommy Mydlo. "The Cree LRP-38 adds back in the beautiful accent lighting guests are accustomed to experiencing, while providing the hotel with an environmentally friendly, fiscally prudent alternative to traditional halogen bulbs."
According to Regency Lighting, replacing the resort's hallway lighting with Cree LR6s is projected to save $131,659 cumulatively in the first year, with a return on investment of about nine months. These savings include projected energy, labor and cooling expenses, as well as the cost of the lamps. Cumulative savings of more than half a million dollars are predicted by the fourth year of installation.
"LED lighting is a natural fit for hotels and resorts because it provides extreme energy efficiency and longevity with beautiful, warm color – a solution designers have been unable to find with any other technology," says Gary Trott, Cree's VP of market development, LED lighting."

Search: Cree LEDs LR6 Recessed downlights
Visit: www.CreeLEDlighting.com