News
3 February 2010
JDSU launches Mini 50 WSS module to provide highly cascadable and 40G/100G solution
Optoelectronic chip and module maker JDSU of Milpitas, CA, USA has announced the Mini 50 WSS, representing the next generation of its 50GHz wavelength selective switch modules, which have been deployed in networks worldwide since 2003 (with proven optical performance and reliability in routing and managing network traffic with with 40G data rates, and ready for 100G network speeds). JDSU claims that its WSS modules are the only ones that are carrying live 100G network traffic today.
With consumer demand for bandwidth-intensive broadband applications such as video over the Internet increasing rapidly, many network equipment manufacturers and service providers are increasingly seeking for optical components that help to optimize traffic to get the most out of their networks, says JDSU. The new module, in 1x9-port configuration, hence comes in a more compact package (with reduced height and a smaller form factor) with increased functionality to support more sophisticated mesh network architectures.
Also, optical performance is designed to better isolate and maintain signals. Testing in JDSU's lab has proven that it can support network traffic through more than 16 nodes (network entry and exit points) with minimal effect on the network signal. Furthermore, it is projected to be able to support (or 'cascade') a signal in traveling through up to 26 nodes without compromising the signal (creating greater agility and faster speeds in networks than was previously possible, helping consumers access their applications without interruption).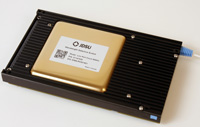 Designed for lower-cost and high-volume production, says JDSU, the Mini 50 WSS became commercially available in December and is currently in various phases of implementation with several network equipment manufacturers.
"JDSU's Ottawa-based R&D team continues to be at the cutting edge of WSS technology," claims Gurpreet Mand, director of reconfigurable add/drop optical multiplexers (ROADM) Products for JDSU's Communication & Commercial Optical Products (CCOP) business segment. "The Mini 50 WSS is yet another example of a next-generation solution from JDSU that has a platform that is highly scalable to support emerging applications."
See related item:
Oclaro acquires wavelength selective switch firm Xtellus

Search: JDSU Wavelength selective switch modules
Visit: www.jdsu.com