News
5 February 2010
LayTec develops AbsoluT for precise on-site temperature calibration
LayTec GmbH of Berlin, Germany, which provides in-situ optical metrology equipment for thin-film processes, has developed the AbsoluT temperature calibration tool for its EpiTT, EpiTwinTT and EpiCurveTT systems. The new instrument is designed for on-site temperature calibration inside the MOCVD chambers of Aixtron's Planetary and CRIUS MOCVD reactors via their original viewport, without the need for any sophisticated alignment and with what is claimed to be unrivaled accuracy.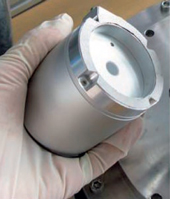 The firm says that all reactor-to-reactor and ring-to-ring temperature variations caused by manufacturing tolerances of the equipment (viewport and window variations) can now be easily corrected, replacing the less accurate and more time consuming method of eutectic calibration that is used currently.
Figure 1: AbsoluT's head, with reference light emitter.
A calibration with AbsoluT takes just 30 minutes, shortening maintenance cycles. The user only needs to put the tool's head into the chamber and press its heat-resistant surface against the reactor lid under the optical view-port. The calibration data is automatically tracked and processed for further temperature measurements.
The new method was recently approved at industrial customer sites. "After calibration, the temperature measurement in MQW showed identical results in each system," reports one customer that tested the AbsoluT.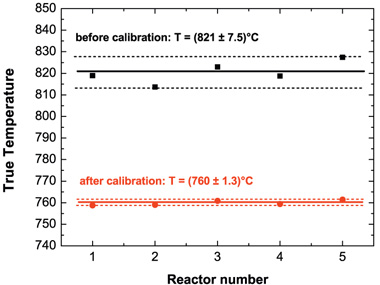 Figure 2: Temperature measurements in five identical reactors, before calibration (black) and after calibration (red).
In a typical calibration result (see Figure 2), AbsoluT was used in five identical CRIUS reactors running the same LED recipe. The initial values (black) were obtained with reference to the black-body pre-calibration before shipment. They are clearly higher than the real temperature, and head-to-head or reactor-to-reactor variations are in the range ±7.5K.
As the original viewport of the MOCVD system is not available at LayTec for pre-calibration, on-site variations of the viewport diameter (typically about 10%) cannot be corrected. The viewport aperture, however, affects temperature sensing in CRIUS-type reactors because the intensity of the infrared radiation detected by the pyrometer changes if the viewport diameter differs. The new AbsoluT calibration eliminates these effects: after temperature calibration (red), the correct temperature of 760°C was measured and the variation of ±1.3K was validated by the identical photoluminescence (PL) emission wavelengths of wafers from all five reactors.
LayTec says that it will make AbsoluT available to customers in April.

*LayTec has recruited Mirja Schwarz as a new manager for marketing services, responsible for marketing activities in photovoltaics. Schwarz already has experience in marketing from working at LayTec as a student in 2008.
Picture: Mirja Schwarz, manager for marketing services.
See related item:
LayTec ranked 30th out of Germany's top 50 fastest growing companies

Search: LayTec In-situ monitoring Aixtron MOCVD
Visit: www.laytec.de