News
11 February 2010
Lumileds gains ISO/TS16949 certification at three sites
Philips Lumileds of San Jose, CA, USA has received ISO/TS16949 certification at each of its three design, development and manufacturing sites. The sites at San Jose, Penang, and Singapore, were certified within weeks of each other with zero non-conformities.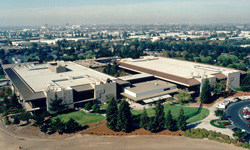 Picture: Philips Lumileds' San Jose Headquarters.
ISO/TS16949 is an international standard that defines quality management system requirements for automotive industry suppliers. As a supplier of LEDs for exterior vehicle applications, Philips Lumileds says it is dedicated to achieving the highest standards and establishing a framework for continued improvements. Although designed for the automotive industry, the benefits of ISO/TS16949 quality management will be realized by customers in the lighting and consumer electronics industries, adds the firm.
ISO/TS16949 certification requires two separate audit programs. The first verifies that a company is ready for a full assessment, and the second is to confirm that the management system in place conforms to the requirements. Any non-conformance to the standards must be corrected prior to certification.
"Thanks to the efforts and commitment of the entire company, this process affirms that Philips Lumileds is leading the quality effort for power LEDs," said Darren Smith, VP Quality and Zero Defect at Philips Lumileds. "This is an ongoing effort through which we will continue to minimize defects, variance and waste in the production process for our Luxeon, SnapLED and SuperFlux products."

Search: Philips Lumileds ISO/TS16949 LEDs
Visit: www.philipslumileds.com