News
17 February 2010
Indian research institute orders Riber's Compact21 MBE system for GaN
Riber S.A. of Bezons, France, which manufactures molecular beam epitaxy (MBE) systems as well as evaporation sources and effusion cells, says it has received an order for its Compact21 GaN research system from a major research institute located in India. Riber did not disclose the customer's name.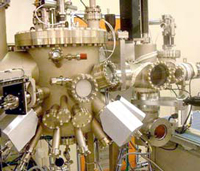 Picture: Riber's Compact21.
The system will be used to research blue and green nitride LEDs and to develop new MBE-based industrial applications.
Just last month, Riber said that sales of its research machines reached a record €10.1m in 2009 (up 26% on 2008's €8.1m). In particular, 14 MBE systems were dedicated to research centers, including 10 sold in second-half 2009.
See related items:
Riber returned to profit in 2009, despite revenue drop; expects growth in 2010
Riber builds business in China
Visit: www.riber.com