News
19 January 2010
Alfalight extends 808nm laser to 3.5W, and launches 879nm and 793nm lasers with wavelength stabilization technology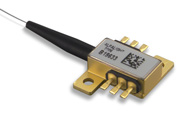 Alfalight Inc of Madison, WI, USA, which manufactures high-power diode lasers for industrial, defense and telecoms markets, has announced the availability of the 808C laser diode series of 3.5W, 808nm devices in a 6-pin package with a 105µm/0.15 NA output fiber (product number XM6-808C-10-353).
The new devices extend the firm's 808nm-wavelength product range with a 40% increase in output power while maintaining a lifetime of 20,000 hours. "Alfalight offers a significant increase in output power at 808nm with no compromise on our proven reliability standards," says VP sales & marketing Ron Bechtold.
The 808nm series includes a 3W version (XM6-808C-10-301) integrating Alfalight's proven Wavelength Stabilization Technology (WST), which offers 0.07nm/°C wavelength stability (a factor of five times more stable over temperature than standard semiconductor lasers, it is claimed). WST eliminates the need for precise temperature control for solid-state laser pumping and other spectrum-sensitive applications.
The firm has also announced additional new WST products at other increasingly important wavelengths, including a 30W, 879nm combined power module (CPM III) with a 685µm/0.22NA output fiber connector (XC3-879CW-38-301); and a 5W, 793nm 6-pin laser with 200µm/0.15NA fiber (XM6-793CW-60-501).
The new products will be on display at next week's Photonics West 2010 event in San Francisco, CA (26–28 January). Alfalight will also present a paper 'High Brightness 975nm Surface-emitting Distributed Feedback (SE-DFB) Laser and Arrays' by Manoj Kanskar et al in the poster session on 26 January.

Search: Alfalight Diode lasers
Visit: www.alfalight.com