News
5 January 2010
Anadigics launches 5GHz WLAN PA to boost range and throughput for WiFi and WHDI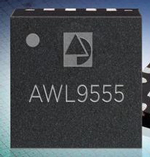 Anadigics Inc of Warren, NJ, USA has launched a new 5GHz wireless local-area network (WLAN) power amplifier (PA), developed to increase both range and data throughput for demanding, high-data-rate applications. The AWL9555 is suited to applications including the wireless transmission of HD video between residential gateway devices and TVs, routers offering 802.11a/n WiFi connectivity, and portable devices such as notebook PCs, netbooks and handsets that offer dual-band WLAN connectivity.
Enhanced multimedia applications such as streaming HD video require high data rates and robust signals, a combination that increases the demand for spectral bandwidth. Operating at 4.9–5.85GHz, the AWL9555 enables original equipment manufacturers (OEMs) to take advantage of the broad bandwidth available in the 5GHz unlicensed spectrum around the world, says Anadigics. The power amplifier provides high linearity and high output power over the full 5GHz band, enabling OEMs to deliver high-quality video and high-speed data wirelessly over a greater distance, the firm adds.
"Consumer demand for wireless connectivity everywhere is increasing, and now the trend is turning toward high-data-rate connectivity throughout the home for high-performance video gaming, access to high-definition video, and even high-speed Internet access in the yard," says Glenn Eswein, director of product marketing. "Groups such as the WHDI consortium are a driving force behind the integration of wireless connectivity into home entertainment systems, and Anadigics has leveraged its RF power amplifier expertise to develop a device that enables OEMs to meet the high expectations of today's multimedia-savvy consumer," he adds.
WHDI (Wireless Home Digital Interface) is an emerging application that has strong support from leading OEMs including Samsung, LG Electronics, Hitachi and Sharp. With the proliferation of WHDI, manufacturers of cable boxes and home gateway devices can use the AWL9555 to provide the range and signal quality needed to deliver wireless HD video to TVs throughout the home, says Anadigics, so consumers can enjoy crystal-clear streaming video without the need for unsightly cables.
The AWL9555 is a highly integrated device with 50Ω internally matched RF ports and an integrated power detector with 20dB dynamic range that reduces overall component count and is easy to design into new equipment platforms, claims the firm. Its low-profile 3.0mm x 3.0mm x 0.55mm leadless package suits size-constrained mobile applications such as handsets which, according to ABI Research, are forecasted to drive strong growth in the WiFi market. With a 3.3V supply and a current of 175mA at +19dBm output power, the PA has 2.5% dynamic EVM (error vector magnitude) and 29dB of linear power gain.
The AWL9555 is available at $1.57 each in quantities of 10,000.
Visit: www.anadigics.com