News
20 January 2010
Cree demonstrates 6-inch LED downlight for residential market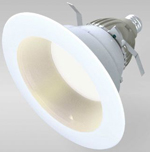 At this week's 2010 International Builder's Show in Las Vegas, LED chip, lamp and lighting fixture maker Cree Inc of Durham, NC, USA is demonstrating its new CR6 LED, a 6-inch LED downlight designed for the residential market.
Picture: Cree's CR6 LED downlight.
"By delivering the beautiful, warm light created by Cree TrueWhite technology in an affordable, energy-efficient LED residential fixture, we're providing consumers with an alternative to energy-wasting incandescents and the poor color-rendering of compact fluorescent bulbs," says Cree LED Lighting's president Neal Hunter.
"There is no residential LED downlight on the market today that can come close to matching the value and performance of the CR6," he claims. "This product builds on the success of the award-winning LR6, which has shipped more than 350,000 units to date."
The CR6 takes the technology at the heart of the LR6 family of recessed LED downlights and redesigns it to deliver maximum value for residential lighting, the firm claims. The CR6 downlight, planned for availability in mid-2010, is being designed to meet ENERGY STAR criteria, and for an end-user price of about $60.
See related items:
Cree demos LR6 LED downlight with 102lm/W efficacy
Cree earns Energy Star qualifications for LED downlights

Search: Cree LEDs LED downlight
Visit: www.CreeLEDLighting.com