News
13 January 2010
HB-LED consumption to triple to $15bn in 2015
Global consumption of high-brightness LEDs (HB-LEDs) in 2009 was worth nearly $4.9bn and is forecasted to triple to $15.03bn in 2015, forecasts market research firm ElectroniCast Consultants in a new report that provides an examination and analysis of the changing market dynamics for various types of HB-LEDs used in selected applications.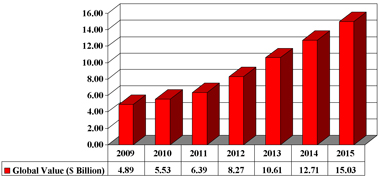 Figure: HB-LED consumption market forecast (in $bn).
As competing lighting solutions are readily available and accepted, HB-LEDs face the challenge of creating definitive positions in the illumination market, comments the firm. While this does not limit the potential success of HB-LEDs, it does create some challenges.
"Consumption of HB-LEDs in automotive/vehicle applications was $329m in 2009 (down slightly from 2007 and 2008)," says Stephen Montgomery, president of International Business at ElectroniCast. "However, we view this sector as a strong opportunity with increased usage of white LEDs, especially in headlamps in automobiles and accessory lighting in aircraft, trains, automobiles and even military applications," he adds.
"The use of solid-state lighting (SSL) is increasing, accelerated by government-based research, initiatives, regulations and incentives from one region to the next," Montgomery continues. "The use of LED-based general lighting is initiated from local, state/provincial-based retrofitting projects – then to commercial/business – and eventually to the consumer-level."
The market forecast report is available for $4800.
See related items:
LED market to nearly double to $14.3bn by 2013
HB-LEDs to drive doubling of MOCVD sales to 415 systems in 2011
HB-LED market to grow at 24% to 2013 after 3.7% dip in 2009

Search: HB-LEDs
Visit: www.electronicast.com