News
7 January 2010
Global Solar unveils first thin-film PV charger with USB connection
At this week's International Consumer Electronics Show (CES 2010) in Las Vegas, Global Solar Energy Inc of Tucson, AZ, USA, which makes copper indium gallium diselenide (CIGS) thin-film photovoltaic cells for both glass modules and flexible substrates, is launching universal serial bus (USB)-enabled SUNLINQ portable solar chargers to its product line up.
Global Solar claims that the SUNLINQ line is the only solution for portable solar power for any type of outdoor needs. This new feature can charge and power batteries for any mobile electronic device capable of connecting and charging via a USB interface, allowing consumers to keep their devices charged and ready to use at any time, from any location.
Equipped with flexible solar cells, the SUNLINQ USB Mini and USB Plus solar chargers are lightweight, convenient and easy to use, says Global Solar, delivering reliable solar power generation for any device with a USB port (including mobile phones, PDAs, iPods, and electronic readers like the Kindle). Unlike most solar chargers which rely on an integrated battery to store power, the USB Mini and USB Plus deliver energy directly to the device's battery, providing a faster and more efficient charge, claims the firm.
Features and capabilities include the following:
Lightweight, flexible solar cells mean that the charger can be laid out or attached to better optimize sunlight and make for easier carrying.
Originally designed to meet military specs, all of Global Solar's portable chargers offer a tough, weather-resistant, nylon rip-stop backing.
Voltage regulation is standardized to 5V to meet USB charging specifications.
Due to high efficiency, SUNLINQ portable chargers power even under cloudy or overcast skies, suiting any region or outdoor activity.
"The proliferation of power-hungry portable electronics and our mobile society continue to drive demand for lightweight portable solar chargers to deliver power on the go, wherever you are," says North American sales manager Jim Kimbrough. "With the addition of our SUNLINQ USB Mini and Plus, Global Solar can address the growing list of more than 2 billion electronic devices capable of charging via USB technology."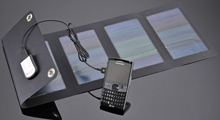 Global Solar has been delivering lightweight, portable solar chargers for ten years. The USB Mini and Plus are designed for consumers who can simply plug their device's USB adapter directly into the SUNLINQ's standard USB A-type receptacle, eliminating the need to purchase a separate car charger adapter for connectivity and charging.
The USB Mini and USB Plus solar chargers are available to consumers, select resellers and qualified manufacturers.
See related item:
Global Solar's CIGS production material reaches 15.45% efficiency

Search: Global Solar Energy CIGS
Visit: www.globalsolar.com