News
4 January 2010
Johnson Matthey delivers nitrogen purifier to Cornell's NanoScale Science and Technology Facility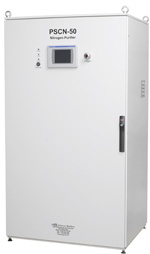 Johnson Matthey Gas Purification Technology (GPT) group of West Chester, PA, USA, which makes bulk and point-of-use hydrogen and nitrogen purifiers, has delivered a PureGuard regenerable catalytic nitrogen PSCN-50 purifier (capable of flowing 50Nm3/hr) to Cornell University's NanoScale Science and Technology Facility (CNF) in Ithaca, NY.
Picture: Johnson Matthey Gas Purification Technology (GPT) group's PSCN-50 purifier.
CNF is a national user facility established in 1977 that supports a broad range of nanoscale science and technology projects by providing resources coupled with staff support. It encompasses physical sciences, engineering and life sciences and has a strong inter-disciplinary emphasis.
CNF equipment specialist Paul Pelletier said the new purifier will be used by the entire facility. "We are open 24/7," he adds. Of the more than 700 annual users of the CNF, half are from outside Cornell. They use the fabrication, synthesis, computation and integration resources of the CNF to build structures, devices and systems from atomic to complex length-scales. Remote research is also available to CNF clients.
"PureGuard PSCN series purifiers provide ultra-high-purity gas in a durable, low-cost package," says Stuart Bestrom, sales manager for JM's GPT group. "Designed for bulk argon and oxygen flow rates from 10Nm3/hr to 60Nm3/hr, they provide continuous high-purity gas using a dual-bed system, one of which is online at all times, while the other regenerates itself."
PSCN purifiers also purify at ambient temperature to reduce power consumption, continue to purify to <1ppb even during power failures, and are supported by a global service support network, Bestrom adds.
Small regenerable bulk gas purifiers suit higher flow rates beyond the capabilities of GPT's PureGuard IX-XL Series in-line gas purifiers, which are often used for point-of-use applications.
See related item:
Johnson Matthey ships hydrogen and nitrogen purifiers for PV manufacturing

Search: Johnson Matthey Nitrogen purifiers
Visit: www.pureguard.net
Visit:
www.cnf.cornell.edu