News
20 January 2010
Leeds wins €2.5m European grant to research terahertz optoelectronics
University of Leeds researcher professor Edmund Linfield has won a €2.5m Advanced Investigator Grant from the European Research Council for 'Terahertz Optoelectronics - from the Science of Cascades to Applications'. Quantum cascade lasers (QCLs) are constructed from thousands of layers of compound semiconductor material. QCL THz sources are small devices that, it is hoped, can be developed into portable equipment accessing the previously difficult 'THz gap' in the electromagnetic spectrum.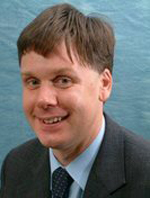 Picture: Professor Edmund Linfield.
Linfield's is one of only 105 projects selected across Europe out of 736 applications in physical sciences and engineering. Linfield plans to use the funding to study both the fundamental science and potential applications of THz QCLs. "The potential uses for terahertz technology are wide-ranging, but are currently limited to niche applications in fields such as pharmaceutical analysis and astronomy, as most systems on the market are both expensive and physically large," Linfield comments. "The availability of cheap, compact systems would open up a wide range of opportunities in fields including industrial process monitoring, security screening, atmospheric science, and medicine."
The Advanced Investigator Grant aims to support established research leaders in carrying out pioneering work in their field. The scheme is in its second year. The latest grant to Linfield follows an award in 2009 to professor Giles Davies - also from the University of Leeds' School of Electronic & Electrical Engineering – for 'New Opportunities in Terahertz Engineering and Science'. Candidates for the grant can be of any nationality, but must be "scientifically independent and have a recent research track-record and profile which identifies them as leaders in their respective field(s) of research". Davies was coordinator of the €5m 'TeraNova' program, funded under the European Union's 6th Framework (FP6), which completed its work in February 2009 and was reviewed in May 2009. Among the achievements of the TeraNova collaborators was QCLs emitting in pulses or continuous waves at frequencies down to 0.8THz at 200K.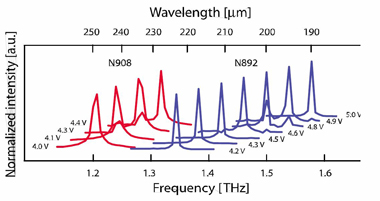 Figure 1: Spectra for some QCLs developed in the TeraNova project in which Leeds University took part.
Leeds has one of only a very small number of laboratories in the world able to grow terahertz quantum cascade lasers, using molecular beam epitaxy (MBE). The 160m2 facility was funded in part by a Royal Society Wolfson Foundation Laboratory Refurbishment award and in part by SRIF II funding from Leeds University.
See related items:
Accessing higher THz gain with switched quantum cascade lasers
THz QCL operating temperature raised by 10°C

Search: Terahertz optoelectronics QCLs
Visit: www.engineering.leeds.ac.uk/imp/tpae.shtml
Visit: http://erc.europa.eu
The author Mike Cooke is a freelance technology journalist who has worked in the semiconductor and advanced technology sectors since 1997.