News
13 July 2010
Anadigics launches 4th-gen HELP PAs for 3G mobile devices
Broadband wireless and wireline communications component maker Anadigics Inc of Warren, NJ, USA has launched the new AWT66xx family of HELP4 WCDMA single-band power amplifiers (PAs), designed for 3G mobile devices running on the WCDMA (wideband code division multiple access) standard. The HELP4 WCDMA family includes the AWT6621, AWT6622, AWT6624, AWT6625 and AWT6628 PAs, each designed for specific wireless bands. All the devices are now ramping into volume production, with complete evaluation kits available on request.
First introduced in 2004, Anadigics says that its HELP products quickly became the preferred choice for CDMA and WCDMA designs due to technology that enables longer battery life and extended talk time. Subsequent generations have continued to raise the performance of CDMA and WCDMA/HSPA devices.
Anadigics says that its fourth generation of HELP (High-Efficiency-at-Low-Power) PAs suits a broad spectrum of mobile device applications as they deliver maximum efficiency at various power levels, including a 50% reduction in current consumption where mobile devices operate most frequently. They also enable up to 75% longer battery life, resulting in much longer talk time in handsets.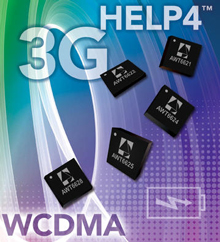 The AWT6621, AWT6622, AWT6624, AWT6625 and AWT6628 each include high-performance directional couplers in a 3mm x 3mm x 1mm footprint. Each is HSPA and HSPA+ compliant for the highest data levels, and offers three mode states to achieve high power-added efficiencies at several power levels during phone operation. The devices also enable low quiescent current and low leakage current in shutdown mode.
Anadigics says that it has works with leading chipset makers in the development of the HELP4 WCDMA family to provide the highest level of flexibility, integration and ease-of-use to mobile handset designers.
Specific applications for each product include:
AWT6621 — Band 1 (IMT) WCDMA/HSPA wireless devices, and Band Class 6 CDMA/EVDO wireless devices;
AWT6622 — Band 2 (PCS) WCDMA/HSPA wireless devices, and Band Class 1 (PCS) CDMA/EVDO wireless devices;
AWT6624 — Band 4 (along with Band 3 and Band 9) WCDMA/HSPA wireless devices, and AWS/KPCS CDMA/EVDO wireless devices;
AWT6625 — Band 5 (Cell) WCDMA/HSPA wireless devices, and Band Class 0 CDMA/EVDO wireless devices; and
AWT6628 — Band 8 (EGSM) WCDMA/HSPA wireless devices.
"Even with the emergence of 4G mobile technology today, we continue to see a tremendous opportunity in WCDMA as the 3G smartphone market continues to expand at an astounding pace," says Marcus Wise, VP, Wireless RF Products. "We have realized tremendous success in the global marketplace with our broad portfolio of 3G products that cover every major standard. We are also paving the way to 4G with a strong portfolio of our forthcoming LTE and WiMAX products," he adds. "Our HELP4 products deliver the efficiency, flexibility, performance and reliability our customers demand to differentiate and deliver the technologically advanced solutions that consumers expect from their mobile devices."
With the proliferation of technologies like HSPA+, which improves wireless network performance, the global 3G WCDMA market remains the most pervasive 3G system globally, says Anadigics. According to the GSA (Global mobile Suppliers Association), 3G/WCDMA is the leading 3G system globally, with commercial service in 135 countries. 97% of WCDMA operators have commercially launched HSPA. Yet mobile broadband downlink and uplink speeds using HSPA are evolving. The Network Update reports on 80 operator commitments to deploy HSPA+, including 41 commercial systems launched in 26 countries.
Visit: www.anadigics.com