News
22 July 2010
Innolume debuts QD pump laser enabling low-cost GPON reach extension
Innolume of Dortmund, Germany, which manufactures quantum-dot (QD) diode lasers covering the 1064–1320nm spectrum, has begun sampling its LD-12xx-series laser platform, a new generation of pump lasers based on the firm's proprietary quantum dot epitaxial tec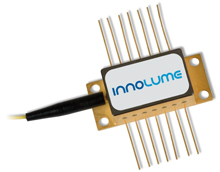 hnology.
Picture: Innolume's new LD-12xx-series laser platform.
Designed as a pump source for O-band Raman amplification, the LD-12xx-series features a single-mode output of 300mW at 1100mA, centered at 1240nm or 1260nm. Packaged in a 14-pin butterfly, the laser is optionally equipped with a polarization maintaining fiber (PMF) as well as a fiber Bragg grating (FBG) to achieve high stability of output power and spectrum.
Large-scale fiber deployments of access networks are underway worldwide, comments Innolume. Passive optical network (PON) technologies play an important part in meeting subscribers' increasing demand for high-bandwidth services. The existing G.984.2 Amd1 GPON standard (with 28dB loss budget) limits 1:32 split GPON deployments to about 20km reach. Compared to electrically powered extender boxes, a full passive solution is an attractive technology, as discussed at March's Optical Fiber Communication Conference and Exposition (OFC 2010) in San Diego (see 'Economic Study Comparing Raman Extended GPON and Mid-span GPON Reach Extender', D. Nesset et al).
"Pilot customers have demonstrated a 13.3dB increase in the upstream loss budget of a commercial GPON system operating over >50km of fiber with a 1:32 PON split," says VP of business development Guido Vogel. "O-band Raman amplification is an excellent example of how the unique features of quantum dot lasers enable new commercial applications. It has been discussed for a long time but never commercially realized due to the absence of low-cost pump lasers in the 12xx nm range," he adds. "Deployment of distributed Raman-amplified GPON technology based on our LD-12xx-series lasers will offer network operators the option to extend network reach while saving on CapEx and OpEx. Installing the amplifier unit at the central office significantly reduces maintenance costs versus powered extender boxes in the field, which are generally impractical, particularly for rural deployments," Vogel says.
"Our epitaxial growth technology enables high-efficiency GaAs-based pump lasers at any desired wavelength in the previously uncovered 12xx nm window," says VP of technology Dr Daniil Livshits. "But our excellent accelerated lifetime test results, conducted internally and at our customers' facilities, demonstrate an even more outstanding feature of these pumps, making them a compelling component for access network and PON-type applications."

See related items:
Innolume raises €8.6m in Series C funding
Innolume launches comb laser diode for O-band WDM
Search: Innolume Quantum dot laser
Visit: www.innolume.com