News
9 July 2010
IQE presents graduate awards for optoelectronics
Epiwafer foundry and substrate maker IQE plc of Cardiff, Wales, UK has sponsored a number of final-year prizes awarded to engineering graduates as part of this week's graduation ceremony at the UK's University of Bath.
The winners were:
James Berry - awarded the IQE prize for the best final-year project in optoelectronics/optical communications;
Alexis Petrides - awarded the IQE prize for the best final-year project in the area of sensors; and
Talini Pinto Jayawardena and Abqulquadir Baruwa - jointly awarded the IQE prize for the best examination result in optical devices and communications systems.
All prize winners achieved first-class Masters of Engineering degrees (awarded at the graduation ceremony).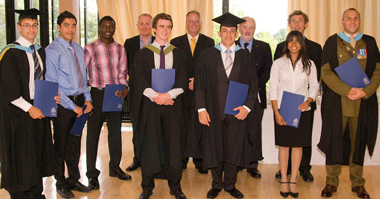 Picture: IQE prize giving.
"IQE is honoured and proud to be associated with the graduate prizes awarded to students at the Electronic and Engineering Department at the University of Bath," commented IQE's Chris Meadows on presenting the awards. "The department has a strong presence in the field of optoelectronics, which is emerging as an important technology for the next generation of consumer and communications devices," he added. "The IQE prizes recognise the commitment, knowledge and enthusiasm of entrants that we believe will lead to today's graduates becoming future world-class engineers."
In October 2009, IQE acquired NanoGaN Ltd, a spin-off specializing in gallium nitride materials for optoelectronic products that possesses key intellectual property and multiple patents.
See: IQE Company Profile

Search: IQE
Visit: www.iqep.com