News
21 July 2010
Osram boosts LED efficiency record to 44%
Osram Opto Semiconductors GmbH of Regensburg, Germany has increased the efficiency of red thin-film LEDs by 30% to a new record. The firm says that its latest generation of thin-film chips benefits from an optimized chip platform that has potential for further improvements. The boost in efficiency opens up new LED applications in general illumination, projection and the industrial sector, claims the firm.
The record efficiency for an LED of 119lm/W at an operating current of 350mA (136lm/W at 70mA) has been achieved using the latest generation of a red 1mm² thin-film (InGaAlP) chip in a Golden Dragon Plus package, emitting at a wavelength of 615nm (l dominant). At present there are no LEDs with higher efficiency at this wavelength, claims Osram Opto. Efficiency has been measured at 44% (49% at 70mA), and even exceeds 50% for a wavelength of 642nm.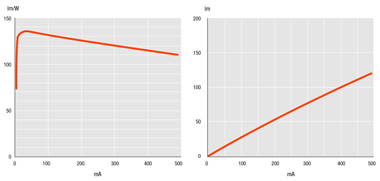 Picture: prototype red (615nm) LED achieves 100lm at 400mA.
Higher efficiency means greater output for the same current and lower power consumption in the relevant applications. This also enables new design options, requiring fewer chips and therefore less space to produce the same brightness. In addition, almost 50% less waste heat needs to be removed, which in turn reduces the need for cooling. As brightness increases, the light sources can be made smaller, the firm adds.
The LED's improved performance expands the possible applications, e.g. high efficiency means that warm-white LED solutions can be produced with better light quality and energy balance through color mixing than through the usual conversion of blue light.
"This will benefit all applications that use high-efficiency red, particularly projection applications," says Dr Wolfgang Schmid, who is responsible for developing the chip technology at Osram Opto Semiconductors. "We expect to start equipping LED products with the new thin-film chips in about a year's time," he adds.
Visit: www.osram-opto.com