News
15 July 2010
SOITEC president & CEO named chairman of SEMI Europe Advisory Board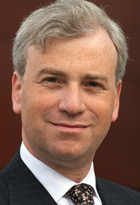 San Jose-based global semiconductor industry association SEMI has announced the appointment of Dr André-Jacques Auberton-Hervé, president & CEO of SOITEC of Bernin, France — which manufactures engineered substrates silicon-on-insulator (SOI) wafers and (through its Picogiga International division) III-V epiwafers — as chairman of the Advisory Board of Brussels-based SEMI Europe. Auberton-Hervé succeeds Dr Franz Richter, CEO of Thin Materials AG, who has been chairman for the past year.
Picture: Dr André-Jacques Auberton-Hervé.
"I will continue to carry forward the SEMI message and work with the European Commission as a member of the High Level Group on Key Enabling Technologies," vows Auberton-Hervé. "SEMI Europe works towards concrete results for a competitive playing field in Europe, especially maintaining manufacturing in Europe and allowing member states to contribute to investments in manufacturing equipment," he adds. SEMI recognizes that semiconductors are critical to the European economy and welfare and must therefore be prioritized on the EU agenda to keep leading European industries competitive.
"The semiconductor industry is a cornerstone of competitiveness and innovation in Europe, the world's largest business market," says Auberton-Hervé. "We have strategic assets in our clusters of excellence, R&D facilities, suppliers and manufacturers," he adds. "However, to attract new national and international investment and invigorate the manufacturing base, we must streamline funding mechanisms, broaden incentives and facilitate avenues for cooperation."
Auberton-Hervé has long played an active role in SEMI activities. In 1995, he was elected to the SEMI International Board of Directors. He is also the recipient of the 1999 European SEMI Award in recognition of his work on Smart Cut technology and his overall contributions to the greater semiconductor industry.

Search: SOITEC
Visit: www.semi.org/europe