News
21 June 2010
Amonix appoints CFO and two new independent directors
Amonix Inc of Seal Beach, CA, USA, which makes concentrated photovoltaic (CPV) systems using III-V multi-junction cells, has named Patrick McCullough as its new chief financial officer. It has also appointed two new independent directors, Matthew Ryan and Michael Skelly, to its board (joining founder & chairman Vahan Garboushian, CEO Brian Robertson, Mark Cirilli of MissionPoint Capital Partners, Ben Kortlang of Kleiner, Perkins, Caufield & Byers, and Zeb Rice of Angeleno Group).
McCullough has more than 15 years of corporate finance experience with industrial equipment, building products and automotive companies, and significant expertise managing treasury, finance, accounting, tax, compliance and internal control functions. He was most recently CFO & senior VP of IMI Severe Service Division, a provider of severe service valve and control solutions for the fossil fuel, nuclear power, and chemical processing industries. He has also been Division CFO at two divisions of Johns Manville, a Berkshire Hathaway Company, and CFO of a billion-dollar US–Chinese joint venture in Shanghai.
"Pat brings the experience and track record of a successful CFO with three Fortune 500 companies and global experience across Asia Pacific, Europe Africa, the Middle East, India and the Americas," says Robertson. "His corporate finance expertise in areas critical to the future growth and success of Amonix are a welcome addition to the executive management team as we take the company to the next level of growth."
Ryan is president Americas of CEVA Logistics, a provider of supply chain solutions for large- and medium-size national and multi-national companies worldwide. He joined CEVA in 2009 as chief operating officer, with 30 years' experience in the global electronics manufacturing and distribution industry. This included 15 years with Flextronics International, where he ran end-to-end contract manufacturing and logistics operations generating revenues in excess of $20bn.
Skelly is founder & president of Clean Line Energy Partners, an independent developer of high-voltage, long-haul transmission lines. Previously, he led the development of Horizon Wind Energy from a two-person company to a leadership position in the US wind industry. Horizon was acquired in 2005 by Goldman Sachs, which in mid-2007 sold the firm to EDP in the largest transaction to date in the clean energy industry. Before joining Horizon, Skelly developed thermal, hydroelectric, biomass, and wind energy projects in Central America with Energia Global.
"Our new independent directors bring valuable industry, manufacturing and financial experience," comments co-Garboushian.
Amonix to construct $20m CPV system production facility in Clark County in Las Vegas area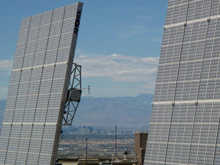 In late May, during the dedication ceremony for the first CPV power plant owned and operated by the Southern Nevada Water Authority (SNWA) at its River Mountains Water Treatment Facility (a 308kW DC installation in Henderson, NV), system supplier Amonix announced plans to construct a new plant for producing CPV systems (mostly for large-scale commercial installations and electric utilities) in the Las Vegas area by the end of 2010.
Picture: CPV panels at SNWA's water treatment facility in Henderson.
Amonix had been considering three buildings, all covering more than 150,000ft2. "We have been meeting with members of the community in Clark County... We are very close to securing the lease for this facility," said Robertson just last week. When fully operational, the facility should have an annual production capacity of 150MW of CPV systems and employ more than 250 staff.
"The key to creating new energy jobs has been Senator Harry Reid's support of renewable energy initiatives," comments CEO Brian Robertson. US Senate Majority Leader Harry Reid reckons that the renewable energy industry in southern Nevada employs about 10,000 people. "Efforts of Senator Reid and others were key to the establishment of manufacturing investment tax credits from the Recovery Act," adds Robertson. Out of the $9.5m that Amonix received from the 2009 American Recovery and Reinvestment Act's Advanced Energy Manufacturing Tax Credit, about $5.9m will be spent on the new facility.
Amonix's move comes as the Nevada Commission on Economic Development (NCED) seeks firms to relocate to the state. NCED has approved a $1.3m tax abatement incentive package for Amonix (available for novel businesses in Nevada State), reckoning that the new plant will generate $1.9m a year in new tax revenue (based on sales taxes, business taxes and personal and business property taxes generated when the estimated 269 jobs are created).
Frank Woodbeck, NCED's director of Las Vegas Operations & Workforce Solutions, said that the state will also be investing funds along with Amonix to train the workforce. Other job training funds will be provided by the federal government. He expects staff to be hired from late September.
"Much of the thrust of our economic model is to focus on renewable energy projects suitable for development in the Western USA," said NCED chairman Nevada Lt. Gov. Brian Krolicki. "This success with Amonix is another important step in helping us achieve the critical mass necessary for the establishment of a solar cluster here."
See related item:
Amonix raises $129.4m in Series B funding
Visit: www.amonix.com