News
29 June 2010
Dominant's LEDs provide exterior lighting for Haima's first SUV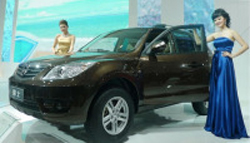 Malaysia-based SMT LED maker Dominant Opto Technologies Sdn. Bhd. says that its LEDs provide the exterior illumination of the first sports utility vehicle (SUV) made by Chinese car maker FAW Haima Automobile Co Ltd, which was exhibited at the Beijing Auto Show in April and targets the medium- and high-end SUV market.
Rear combination lamps integrate multiple signal lamp functions. Dominant says that, unlike single-point incandescent bulbs, several LEDs acting in conjunction provide the required intensity for the combined stop and tail lamp functions: 6 amber Primax for the brake light and 12 amber Power DomiLEDs for the tail lamp (which requires a lower intensity and needs to be regulated at a lower average power compared with the brake light).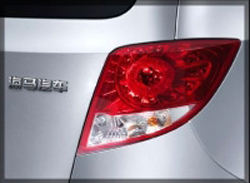 Dominant says that LEDs also provide opportunities for styling differentiation and modularity while optimizing mechanical and electrical efficiency. Haima opted for LED light sources due to the low power consumption, high functionality and small size (a benefit for automobile designers replacing traditional light sources with LEDs where space is limited), Dominant adds.

Search: Dominant Opto Technologies Automotive LEDs
Visit: www.dominant-semi.com
Visit: www.haima.com