News
8 June 2010
Infinera and Opnext partner on NTT 100GbE interoperability demo
At this week's Interop Tokyo 2010 event in Makuhari Messe (9–11 June), Infinera of Sunnyvale, CA, USA, a vertically integrated manufacturer of digital optical network systems incorporating its own indium phosphide-based photonic integrated circuits (PICs), completed a demonstration of 100 Gigabit Ethernet (100GbE) transmission over a live network at the booth of Tokyo-based service provider NTT Communications Corp.
Involving a 100GbE signal handed off from an IP router to a prototype 100GbE Infinera module (containing Opnext IEEE-compliant 100GbE LR4 CFP optical transceivers) in one of the firm's DTN system, the demonstration is claimed to mark a significant step forward in the development of commercial 100GbE technology.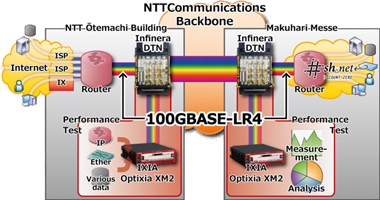 "Infinera's interoperability demonstration of 100GbE at Interop Tokyo highlights the momentum of next-generation optical transmission technology," says Tadayuki Kanno, president of the module business unit of optical module and component maker Opnext Inc of Fremont, NJ, USA.
The Infinera DTN 100 Gigabit Ethernet tributary interface module used in the demonstration is fully compliant with the most recent IEEE 802.3ba draft specification and CFP multi-source agreement (MSA). The firm is working with other vendors and service providers in industry standards bodies to agree common standards for 100GbE technology and services. This is the latest in a series of Infinera demonstrations involving interoperability of 100GbE components and systems from a range of other technology vendors. In late March at the OFC/NFOEC 2010 event in San Diego, CA, Infinera partnered with other router, test equipment and optical module vendors to show wide interoperability of 100GigE.
"The Infinera system is unique in its ability to run 100GbE services over today's network," says Kohei Kitade of the IP Network Department of NTT Communications' Network Business Division. "Infinera's Bandwidth Virtualization enables a wide range of services, including 100 GbE, to run over any set of available wavelengths, simplifying the deployment challenge for an operator that has already built a large network," he adds.
"In partnership with NTT Communications, Infinera is driving towards wide interoperability and commercial standardization for 100GbE services," says Infinera's chief technology officer Drew Perkins. "This demonstration is a first for Japan, a market where bandwidth growth is very strong and the need for next-generation services is clear."
Visit: www.interop.jp/en
Visit: www.infinera.com
Visit: www.ntt.com