News
2 June 2010
Lumileds 2700K and 3000K Rebel LEDs shrink white binning space and improve efficacy stability
LED maker Philips Lumileds of San Jose, CA, USA has expanded its portfolio for indoor illumination applications in hotels, shops, restaurants, and homes by launching two new LUXEON Rebel LEDs that use the firm's latest thin-film flip chip (TFFC) and proprietary Lumiramic phosphor technologies for correlated color temperatures (CCTs) of 2700K and 3000K.
At the high operating temperatures found in applications like recessed lamps, the new emitters set what are claimed to be efficacy benchmarks: 76lm/w typical for the LXM8-PW27 and 81lm/W typical (and up to 95lm/W at 350mA and 3000K CCT) for the LXM8-PW30. In addition, they provide consistent efficacy across the typical operating temperature range.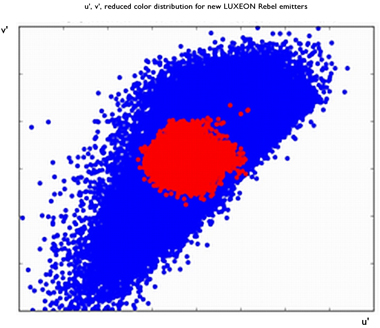 Image (above): Red indicates distribution of LUXEON Rebel LEDs using Lumiramic phosphor technology. Blue is a standard distribution of white LEDs.
Also, the implementation of Lumiramic phosphor technology allows what is claimed to be industry's smallest and most consistent white binning space (shrinking white color distribution by a factor of four, advancing the firm's drive to free users from white color binning), as well as providing superior color uniformity and raising the standard for quality of light.
For a decade, white binning has complicated luminaire design, says Lumileds. But, with more than 80% of the new emitter's production falling within a 3 MacAdam ellipse area in the ANSI bin space, luminaire design is simplified, unit-to-unit consistency is realised, and the supply chain is more certain and reliable, claims the firm.
"We continue to lead the LED industry transition from semiconductor manufacturer to lighting industry partner," says Steve Barlow, executive VP of sales & marketing. The lighting industry wants an end to binning, confidence in application performance, and a certain and dependable supply chain, he adds. "These are elements that we will continue to address with innovation and solutions that improve application performance."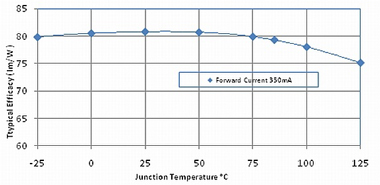 Image (above): Stable efficacy at virtually all temperatures and efficacy at actual operating conditions of new LUXEON Rebel emitters.
Stable efficacy at virtually all temperatures and superior efficacy at actual operating conditions are features of the new LUXEON Rebel emitters. While LEDs are typically tested at 25ºC, in applications like down-lights and retrofit lamps the internal temperature can be much higher (up to 80–100ºC). While most LEDs would have significant light output and efficacy losses at these temperatures, the new LUXEON Rebel emitters maintain more than 90% of their light and more than 95% of their datasheet efficacy, even at junction temperature of 85ºC, it is reckoned.
Also, through the application of Lumiramic phosphor plates, the color rendering index is also improved and is now being specified with a CRI of 85 (typical) and 80 (minimum) for both the 2700K and 3000K CCT emitters. Illumination of retail goods, food products and skin tones are all very good at this level, it is claimed.
Most LEDs display inconsistent color off the center viewing axis because the blue photons pass through varying thicknesses of phosphor before exiting the LED and therefore have different color qualities. This is particularly problematic in linear or wall wash applications that are prevalent in the hospitality industry. To provide dependable, consistent color and tint at a wide range of viewing angles, Lumileds has therefore also implemented what is claimed to be a unique process in conjunction with its Lumiramic phosphor that allows decreased variance in color over angle. This not only contributes to overall color quality, it delivers consistent, repeatable results, claims Lumileds, so that lighting designers can confidently design for the most demanding applications. The new LUXEON Rebels are the only power LEDs with specified color over angle performance, the firm adds.
The new 2700K and 3000K CCT LUXEON Rebel emitters are available in evaluation and prototyping quantities directly from Future Lighting Solutions' regional marketing centers. High-volume production quantities will be available in August.

Search: Philips Lumileds LEDs LUXEON Rebel
Visit: www.philipslumileds.com
Visit: www.futurelightingsolutions.com