News
21 June 2010
Osram launches higher-current OSTAR Compact LEDs for brighter projectors
Osram Opto Semiconductors GmbH of Regensburg, Germany says that the latest version of its OSTAR Compact LED is characterized by better high-current capability and lower thermal resistance. It can handle up to 6A in pulsed mode, which suits pico projectors and pocket projectors for small mobile terminals. The high-power LEDs can boost brightness, depending on the design of small projectors, says Osram Opto.
The new OSTAR Compact is accommodated in the same 3.9mm x 3.6mm package as the previous version, but offers more light output, so small projectors can be designed for more brightness without increasing their size, says the firm. Instead of 4A, the new LED can now be pulsed with 6A. Light output is 350lm in amber, 600lm in green and 165lm in blue in pulsed mode (typically 120Hz, 2ms, T s= 25°C). Also, due to a new package material, thermal resistance has been reduced from 6K/W for the old version to 3K/W, so heat can be dissipated more efficiently.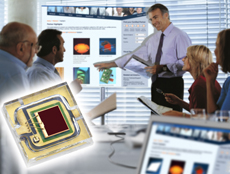 Osram Opto says that the enhanced performance of the high-power LED is achieved by a 2mm2 chip that benefits from improved epitaxial processes and from a more even power distribution via additional bond wires. "This enabled us to design the compact LED for even higher current-handling capacity," says Wolfgang Schnabel, marketing manager Projection. "Our new OSTAR Compact offers higher luminous power for small projector designs," he adds. "The devices remain small in size, but gain a lot in brightness."
The new high-current capability extends the portfolio of OSTAR Compact LEDs for projection applications, which also includes LEDs with chips with an edge length of 750µm, and LEDs with chips with an area of 1mm2 in all colors.

Search: Osram LEDs Projectors
Visit: www.osram-os.com