News
14 June 2010
LPS completes largest Solyndra installation in US
Solyndra Inc of Fremont, CA, USA, which manufactures copper indium gallium diselenide (CIGS) photovoltaic (PV) systems consisting of panels and mounting hardware for commercial rooftops, says that LPS Industries of Moonachie, NJ (a diversified manufacturer in the flexible packaging industry) has completed the largest Solyndra installation in the USA to date (a 704kW installation).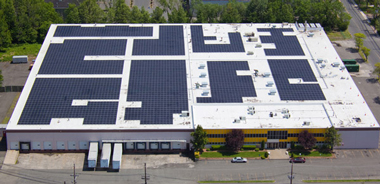 "Our goal with this project was to demonstrate LPS Industries' commitment to conducting business in an environmentally responsible manner, but it had to make economic sense," says LPS' CEO Madeleine Robinson. "Solis Partners [of Manasquan, NJ] specified the Solyndra panels with a new 'cool roof', allowing us to generate the most energy possible from our roof while reducing our overall energy use," she adds. "The system is up and running and we expect a strong return on our investment."
The installation consists of about 3800 Solyndra solar panels, producing over 825,000 kWh of electricity and eliminating more than 1,100,000 pounds of CO2 emissions annually (enough energy to remove 93 cars from the road or power more than 100 residential homes per year according to US Environmental Protection Agency calculations). Solis Partners LLC (a developer and integrator of solar power systems to commercial, industrial and utility clients) designed, engineered and installed the system in combination with a new white 'cool' roof system. Solis worked on procurement, financing, and logistics with Allied Building Products Corp, which distributes building products to specialty contractors from over 180 locations throughout the USA (and whose solar division supplies Solyndra panels, inverters, and other solar products to qualified contractors).
Solyndra's proprietary cylindrical thin-film solar panels are built from tubes. This 'self-tracking' design — with a 360º photovoltaic surface capable of absorbing direct, diffuse and reflected sunlight (from below) — allows the capture of more sunlight from low-slope commercial rooftops than conventional flat-surfaced solar panels, which need costly tilted mounting devices to improve the capture of direct light from the sun, offer poor collection of diffuse light, and fail to collect reflected light. Also, gaps between the tubes and their frame let wind pass through, reducing the need for heavy, roof-penetrating fastenings or anchoring; their lighter weight also allows installation on scantier roofs. Simple horizontal mounting hardware also allows fast and economical installation, claims the firm.
"We had all of the panels installed in four weeks," says Solis Partners' managing director Jamie Hahn. "The entire project was completed in just a few months, which is very impressive for an installation of this size, and offered substantial installation savings for LPS over other types of solar panels," he adds.
"This project demonstrates the effectiveness of our growing Solyndra Solution Provider channel [established at the end of March]," claims Solyndra's VP of sales & marketing Kirk Roller. "With Solis' strong understanding of local and federal incentives, they worked with LPS, Allied and the local utility to ensure the lowest turn-key system cost for LPS."
The project was partially financed by the PSE&G Solar Loan program, which will be repaid by Solar Renewable Energy Certificates (SRECs).
Visit: www.solyndra.com
Visit: www.lpsindustries.com
Visit: www.solisllc.com