News
24 March 2010
Chevron starts project to test thin-film PV technologies
Energy firm Chevron Corp of San Ramon, CA, USA has announced the start of the three-year-long Project Brightfield at a former oil refinery site near Bakersfield, CA that has been repurposed to test and compare the performance of seven emerging photovoltaic technologies provided by independent solar companies (six thin-film and one crystalline-silicon).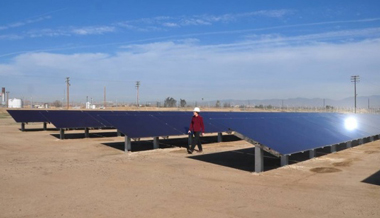 Picture: Chevron's solar energy demonstration facility.
"Brightfield represents one of the most comprehensive solar energy tests of its kind and is an innovative approach to evaluating new technologies," claims Des King, president of Chevron Technology Ventures (the division of Chevron USA Inc that identifies, evaluates and demonstrates emerging technologies). The site will measure the energy produced by each solar technology and monitor how weather elements (such as temperature, rain, wind and humidity) affect the panels' performance. "Testing competing technologies side by side means that we can better understand their potential application at other Chevron facilities," adds King.
The 7700 solar panels on the 8-acre site will generate about 740kW of electricity, which will be directed to the local utility grid as well as to Chevron's oil production operations at the Kern River Field. "Chevron has operated in the San Joaquin Valley for more than a century," says Bruce Johnson, VP of Chevron's San Joaquin Valley business unit. "Throughout this time, our engineers have developed breakthrough technologies that have helped make us the leading oil and gas producer in the state," he adds.
The firms demonstrating thin-film technologies are Abound Solar, MiaSolé, Schüco, Solar Frontier, Sharp, and Solibro, while the crystalline-silicon technology is provided by Innovalight. Each can access data about its technology, find out how well it performs in various conditions, and compare it against a benchmark solar technology — an unnamed brand of commercially available PV technology — that has also been installed on the site.
MiaSolé of Santa Clara, CA was founded in 2001 and raised $300m in venture financing, but started shipping copper indium gallium diselenide (CIGS) thin-film photovoltaic panels to customers only last December. It has now installed modules at the Brightfield site providing 200kW of power (marking MiaSolé's first commercial project in California). MiaSolé says that its CIGS PV panels convert 10.5% of sunlight into electricity. Products are designed specifically for large-scale rooftop and ground-mount installations for utilities, independent power providers, and industrial scale deployments.
Cadmium telluride (CdTe) thin-film PV panel maker Abound Solar of Loveland, CO (formerly Colorado State University spin-off AVA Solar from January 2007 until March 2009) raised $104m in equity financing in 2008 and started its first commercial-scale (65MW) manufacturing plant last April. It is providing Brightfield with a 190kW commercial-scale ground-mount PV array of Abound AB1 modules which, in combination with a Schneider Electric Xantrex GT250 central inverter, will produce of 300MWh per year.
Solibro GmbH was formed in November 2006 to combine the CIGS PV technology of Solibro AB (which was spun off from R&D at the Ångström Solar Center of Sweden's Uppsala University in 2001) with commercial and industrial backing of silicon PV maker Q-Cells of Bitterfeld-Wolfen, Germany (of which it became a wholly owned subsidiary within Q-Cells Modules last June). Solibro shipped its first products in 2008. Production capacity expanded from 15MW to 45MW in 2009 and should ramp up by another 90MW to 135MW by the end of 2010.
Solar Frontier (a subsidiary of Tokyo-based oil refiner Showa Shell Sekiyu called Showa Shell Solar until March) had been working on copper indium selenide (CIS) PV technology since 1993 before starting commercial production of modules at 20MW/year in 2007 and adding a 80MW/year second plant last June. It is now planning to spend ¥100bn ($1.1bn) to build a third, 900MW plant that will open in mid-2011 (boosting capacity ten-fold to 1GW).
Germany's Schüco, which makes aluminum, steel and solar components, has developed a US presence over the past three years and exhibited its thin-film PV modules at the Intersolar North America 2009 conference last July.
Japanese consumer electronics maker Sharp makes traditional silicon solar cells, but also makes III-V-based thin-film PV cells. The firm aims to boost its thin-film PV manufacturing capacity six fold to 1GW by 2010, and to deliver 6GW by 2014.
Founded in 2002, Innovalight of Sunnyvale, CA makes proprietary photovoltaic silicon ink that can produce 18%-efficient PV cells via high-throughput atmospheric inkjet-based processing.
At the end of the three-year Project Brightfield, Chevron aims to decide which of the technologies to integrate into its facilities worldwide.
Brightfield is Chevron's second completed project that repurposes an existing asset to integrate renewable power. The first was a wind farm on a former Texaco refinery site near Casper, Wyoming (where 11 wind turbines generate 16.5MW of power). A third project — a 1MW concentrating photovoltaic (CPV) installation at a former Chevron Mining Inc facility near Questa, NM — will use CPV systems from Concentrix Solar GmbH of Freiburg, Germany (as announced on 24 February), and is due to be completed by the end of 2010.
See related items:
CIGS PV maker MiaSolé installs 200kW at Chevron test facility
Chevron commissions 190kW PV installation to explore performance of Abound Solar's CdTe thin-film technology
Concentrix enters US market with 1MW CPV deployment at Chevron plant

Search: Chevron Miasolé CIGS Abound Solar CdTe Concentrix
Visit: www.chevron.com