News
15 March 2010
Edwards' new Zenith range incorporates iXH vacuum pump and Atlas family of gas abatement solutions
Edwards of Crawley, UK has expanded its Zenith range of integrated exhaust management systems by incorporating its iXH harsh process vacuum pump and Atlas family of gas abatement solutions.
"Advanced semiconductor manufacturing processes have created new vacuum technology challenges, while environmental concerns are leading to tighter regulation of the gases exhausted during the semiconductor manufacturing process," said Mike Allison, managing director, sales and service, Edwards. "At the same time, economic imperatives are driving semiconductor manufacturers to seek opportunities to lower the [cost of ownership] CoO of their tools, as well as reduce overall manufacturing costs. Both the Atlas abatement system and the iXH pump were designed to meet these latest manufacturing requirements, while delivering lower system CoO, reduced utility costs, improved ease-of-use and extend maintenance cycles."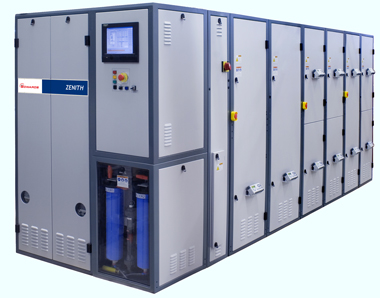 All components in the Zenith system are completely integrated, and each function is supported by a control interface. The Zenith range provides full internal distribution, as well as regulation and monitoring of all services. Furthermore, a Zenith exhaust management solution can reduce system footprint by up to 70% and can reduce utility hook-ups by over 60%, says the firm.
The iXH series of dry pumps for harsh processes offer greater process capability and reduced CoO compared to previous-generation Edwards pumps. They feature a wide temperature range, which helps minimize by-product accumulation; greatly increased powder-handling capabilities; and a unique Gas Buster technology; as well as an innovative pump seal technology. iXH systems also help to expand process windows, thereby helping to improve yields.
The Atlas combustion-based abatement family of systems are tailored to the needs of individual semiconductor manufacturing processes, such as CVD and etch. They consume half the fuel of previous-generation abatement systems, thereby significantly reducing operating costs, adds Edwards.

Search: Edwards Exhaust management CVD Etch
Visit: www.edwardsvacuum.com