News
15 March 2010
Harsh-environment fiber-optic component market $615m in 2009
Global market consumption fiber-optic components (and supporting devices and parts) designed to operate in harsh environments beyond commercial telecom and datacom (premise) installations totaled $615m in 2009, according to a new market report from ElectroniCast Consultants.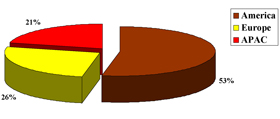 Graphic: Harsh-environment fiber-optic component market share by region for 2009 ($615m).
Of the $615m total, the American region led with 53% market share ($328m), Europe was second (26%) and Asia Pacific third (21%). "Over the 2009–2019 period, however, consumption of these components will expand faster in the European and the Asia Pacific regions," says ElectroniCast chairman & founder Jeff D. Montgomery (director of the study program).
"The environments encountered by the components included in this analysis and forecast often require custom-designed packaging, with much smaller quantities required, compared to packaging of components for conventional/commercial applications," says Montgomery. "The environmental extremes that must be accommodated are greater, there often is a need for minimizing size and weight, and shock and vibration environments are more extreme," he adds.
ElectroniCast defines a harsh environment (HE) as an environment beyond the limits normally encountered by commercial telecom, datacom and commercial intra-equipment fiber data links, i.e. involving extremes of:
temperature (below –40ºC or above +75ºC);
shock and vibration;
tensile strength (e.g. for fiber-guided missiles, tethered sensors, etc);
high electromagnetic or radio-frequency (EMI/RFI/EMP) interference;
corrosive and/or solvent surroundings;
atomic and other radiation;
external pressure extremes; and
rough handling during installation/deployment.

Search: Fiber-optic components market
Visit: www.electronicastconsultants.com