News
25 March 2010
Global Solar Energy appoints Jean-Noel Poirier as vice president of marketing and business development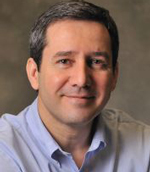 Global Solar Energy Inc of Tucson, AZ, USA, which makes copper indium gallium diselenide (CIGS) thin-film photovoltaic (PV) cells for both glass modules and flexible substrates has appointed Jean-Noel Poirier as vice president of marketing and business development.
Picture: Jean-Noel Poirier.
Poirier will lead the firm's sales, marketing, business development and product management efforts, to support the execution of Global Solar Energy's technology roadmap and corporate strategy. He replaces Timothy Teich, who was appointed vice president of operations earlier this year.
"Jean-Noel's experience in product development, sales and marketing coupled with his understanding of the global solar industry will be incredibly valuable to the future growth and success of Global Solar," said Dr Jeffrey Britt, president and CEO of Global Solar Energy. "We look forward to start Jean-Noel's contributions to direct our marketing and development efforts. His leadership at Global Solar is integral to ensuring we continue being a technology innovator in the emerging building integrated photovoltaic (BIPV) industry."
Poirier added: "One of the most interesting areas of solar is BIPV, a breakthrough approach to integrating solar material into building products and design, and an area where Global Solar's CIGS flexible cells are uniquely suited to succeed. This is a truly exciting time to join Global Solar…"
Prior to joining the firm, Poirier served as vice president of market development at First Solar Inc, a producer of thin-film photovoltaic modules. He has also held several leadership positions at Honeywell International.
Poirier is a founder of the advisory firm NextRound Venture Partners LLC, and continues to advise early stage companies including MachFlow Energy Inc, ElectroMotive LLC, and the Triana Group. He also sits on the advisory board of the Executive Program of the New York City Accelerator for a Clean and Renewable Economy at Polytechnic Institute of New York University. Poirier holds an MBA from the Kellogg graduate School of Management, Northwestern University, as well as a B.S. in Applied Economics and a B.S. in Management Sciences from the University of Paris Dauphine.
See related item:
CIGS firm Global Solar first to exceed 13% thin-film efficiency on flexible substrate



Search: Global Solar Energy CIGS BIPV
Visit: www.globalsolar.com