News
15 March 2010
Intense adds ultra-compact, high-brightness 600W Mini stacked array laser
Intense Ltd of North Brunswick, NJ, USA, which makes monolithic laser array products and integrated high-power laser diodes, has added the 600W Mini Stack to its Hermes family of high-power quasi-continuous-wave (QCW) stacked arrays.
The 600W Mini Stack is an ultra-compact 600W QCW high-brightness stack with an emission area of less than 3mm x 3mm, generating output of about 7.6kW/cm2. The design is fabricated in standard wavelengths of 808nm and 940 nm. Custom wavelengths, including multi-color options, are available on request.
"The Mini stack offers 50% higher optical power density than some 2kW stacks that use standard bar technology," says Intense Ltd's chief commercial officer Kevin Laughlin. This, combined with a compact footprint and small emission area, makes the Mini stack suitable for high-power end pumping of DPSS (diode-pumped solid-state) laser sources, he adds. "Its ultra-compact form factor and high optical power density offer a real opportunity to reduce size and cost, and dramatically improve system operating efficiency for solid-state laser manufacturers currently using flash lamps or standard diode bar pump technology."
The standard 600W Mini stack is offered for operating conditions up to 60ºC. High-temperature versions of most Hermes bars and stacks, covering 70–130ºC, are available. Power levels and emission areas can also be custom designed to meet specific needs of OEM customers.
"The 600W Mini stack was designed with the defense market in mind," says Laughlin. "Defense customers are always looking to reduce the footprint/weight ratio, and improve battery life and system performance, particularly under harsh conditions," he adds. "The 600W Mini is an extremely compact, ruggedized end-pump diode array solution."
The 600W Mini stack and all Hermes bars and stacked arrays incorporate Intense's patented quantum well intermixing (QWI) technology, which boosts the brightness and reliability of the lasers while reducing instances of catastrophic optical damage (COMD).
The entire line of Hermes QCW bars and stacks is assembled using AuSn hard solder and designed for a wide range of aerospace, defense and industrial applications.
*Early this month, Intense launched two new ultra-high-brightness (0.5W and 2.0W) versions of its Power Core 808, a line of 808nm multi-mode laser engine chips that can be customized for a variety of optics applications (Other wavelengths are available on request).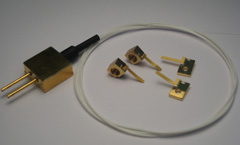 Designed for thermal print, graphics, and coding applications, the free-space laser diodes have small emitting apertures of 25µm (0.5W) and 45µm (2.0W), so low beam divergence produces very high brightness in a small, simple-to-integrate, chip-level device.
The high-brightness, multi-mode laser diodes are designed to be packaged in 9mm cans in both free-space and fiber-coupled versions. In the fiber-coupled configuration, the diodes are offered with a standard 60µm core diameter with 0.15 numerical aperture (NA).
"These lasers represent some of the industry's highest output power levels from small-aperture devices," claims Laughlin. "We have leveraged our patented QWI technology to develop high-power sources, making these ultra-high-brightness lasers extremely reliable and therefore able to meet the demands of the print and imaging and coding and marking markets," he adds. "These lasers are ideally suited for applications where compact devices capable of being focused into a small spot provide key advantages in simplifying the design of print and thermal coding and marking heads."

Search: Intense Laser diodes
Visit: www.intenseco.com