News
15 March 2010
Lumileds adds ultra-compact LUXEON c for appliance, portable and personal lighting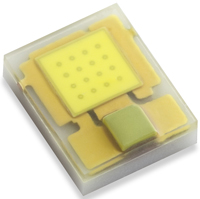 To address the lighting industry's need for smaller, more powerful, and long-lasting LEDs for applications like refrigerators, freezers, and washing machines, LED maker Philips Lumileds of San Jose, CA, USA is adding to its portfolio of LUXEON power LEDs by introducing the small-form-factor (2.04mm x 1.64mm x 0.7mm) LUXEON c LED.
Specifications of the LUXEON c include: typical luminous efficacy of 82 lumens per watt and light output of 85 lumens; a typical forward voltage of 2.95V; ANSI-aligned binning CCT 5000–5700K; and 70% lumen maintenance at 20,000 hours.
Lumileds claims that LUXEON c enables more efficient, cost-effective, environmentally friendly lighting solutions for the tens of millions of appliances, tools, and portable applications that typically use a 10–40W conventional light bulb. The firm adds that, for owners and users of these applications, implementing LUXEON c can reduce operating costs and energy consumption.
"There are hundreds if not thousands of different lighting applications each with their own light source requirements," says Frank Harder, VP of product marketing. "We have two objectives," he adds. "First, to provide a path for our customers to move to a solution that makes sense for their business, and second to enable them to rethink their design, take full advantage of the size and power of our LUXEON LEDs, and deliver a solution that adds value when compared to the original bulb-based solutions."
LUXEON c is available from Future Lighting Solutions, which also offers engineering and complementary infrastructure resources to assist customers with rapid development and market introduction of solutions using LUXEON c.
See related item:
Philips Lumileds implements 2D barcode tracking

Search: Philips Lumileds LEDs LUXEON
Visit: www.philipslumileds.com
Visit:
www.futurelightingsolutions.com