News
22 March 2010
Nanosolar appoints AMD and Rambus veteran Tate as CEO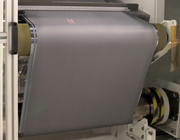 Nanosolar Inc of San Jose, CA, USA, which manufactures copper indium gallium diselenide (CIGS) thin-film photovoltaic panels using roll-to-roll printing, has named Geoff Tate as CEO, replacing co-founder Martin Roscheisen.
Picture: A roll of CIGS foil in Nanosolar's San Jose factory.
From 1990 through 2005, Tate was previously CEO of Rambus Inc, which specializes in the design of high-speed memory chip interfaces licensed to semiconductor manufacturers. Over the previous 10 years, he served in multiple general management roles at microprocessor maker Advanced Micro Devices (AMD), including as senior VP and corporate officer. Tate has a bachelor's degree in computer science from University of Alberta and an MBA from Harvard University.
Tate has a successful track record of developing technologies into successful businesses, says Erik Straser, Nanosolar board member and Mohr Davidow Ventures general partner. "Under Geoff's leadership, Rambus developed and commercialized a 500MHz interface, which at the time was 5–10 times faster than competitive alternatives... Geoff will be a terrific addition to Nanosolar as we bring our thin-film CIGS solar panels to market," he adds.
Founded in 2002, Nanosolar has raised more than $500m in funding. The firm started shipping CIGS photovoltaic panels in late 2007 (its first product, the Nanosolar Utility Panel). Last September, it entered serial production (at the first roll-to-roll printing solar cell factory in California) and inaugurated its panel-assembly production plant in Luckenwalde near Berlin, Germany. The fully automated assembly plant processes Nanosolar's cells into finished panels using high-throughput manufacturing techniques and tooling developed by Nanosolar and its partners, allowing an annual capacity of 640MW when fully utilized and operating around-the-clock. However, initial utilization rates were scheduled to be much lower, with start-up production at just 1MW per month, before ramping up to deliver on contractual commitments of $4.1bn from customers that include "the world's largest utility power producers" (many are European utilities, such as Beck Energy/Belectric, EDF's renewable energy subsidiary EDF Energies Nouvelles, AES Solar, juwi, and NextLight Renewable Power).
"We have market-leading customers, strategic investors, a strong balance sheet, and groundbreaking technology that has the potential to enable the lowest-cost solar panels in the industry," claims Brian Sager, co-founder, board member & VP corporate development. "Our highest priority under Geoff's leadership will be to meet our customer commitments."
See related item:
Nanosolar opens 640MW CIGS PV panel assembly plant in Berlin

Search: Nanosolar CIGS thin-film PV panels CIGS
Visit: www.nanosolar.com