News
18 March 2010
NYSERDA awards $1.5m for clean energy incubator at UAlbany NanoCollege
The New York State Energy Research and Development Authority (NYSERDA) is providing $1.5m to establish the Incubators for Collaborating and Leveraging Energy and Nanotechnology (iCLEAN) clean energy incubator program, spearheaded by the Energy and Environmental Technology Applications Center (E2TAC) at the University at Albany's College of Nanoscale Science and Engineering (CNSE). The objective of iCLEAN is to help growing companies develop and commercialize clean energy technologies and create jobs in the Tech Valley. The announcement was made at the UAlbany NanoCollege by NYSERDA president & CEO Francis J. Murray Jr, State University of New York (SUNY) chancellor Nancy Zimpher, and CNSE senior vice president & CEO Dr Alain Kaloyeros.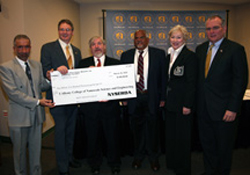 The sixth clean energy business incubator created by NYSERDA over the past year (and the third to be located on a SUNY campus), iCLEAN is a partnership between CNSE's E2TAC and the Hudson Valley Center for Innovation (HVCFI) in Kingston, and will seek to expand existing incubator programs at these facilities and create a new, larger incubation center at the NYSERDA-owned Saratoga Technology + Energy Park (STEP) in Malta, NY.
CNSE has also attracted an additional $1.5m in private investment to support iCLEAN's activities, as well as the program's first corporate partner. Magnolia Solar Corp of Woburn, MA, USA, which develops nanostructure-based thin-film solar cells for terrestrial applications for defense and commercial applications, is partnering with E2TAC on research to enable the development of high-efficiency, low-cost solar cells. Earlier this month, Magnolia received a $1m award from NYSERDA to develop its solar cells in partnership with CNSE. The firm uses nitride-based materials on low-cost substrates to capture a broader spectrum of the sun's energy, and incorporates nanostructure-based antireflection coatings to reduce energy losses and boost solar energy conversion efficiency.
Over the next four years, iCLEAN expects to incubate 25 firms, with the potential for creating 125 new jobs and investing nearly $125m into the regional economy.
"With its wealth of talent and clean energy expertise, the College of Nanoscale Science and Engineering of the University at Albany is an ideal location for a new business incubator that will help early-stage businesses grow, create jobs in Tech Valley [a 19-county region encompassing the Capital Region, parts of the North Country, Hudson Valley, and Mohawk Valley], and compete in the national economy," says Murray. The funding represents Governor David Paterson's commitment to invest in infrastructure to help innovators develop their products, take their ideas to the market, and expand New York's clean energy industries, he adds. "This partnership leverages our collective strengths in developing the economy while focusing on sustainable, low-cost energy," comments Zimpher.
"The world-class educational and research portfolios at UAlbany's College of Nanoscale Science and Engineering will be further enhanced through this vital funding from NYSERDA," reckons University at Albany president George M. Philip. "The creation of this innovative clean energy incubator also illustrates the NanoCollege's unique ability to drive economic investment and growth, particularly in the most critical sectors of our economy, including alternative energy technologies," he adds.
"This funding will enable advanced research at the UAlbany NanoCollege that is essential for the commercialization of innovative green energy technologies, and also provide opportunities to attract alternative and renewable energy companies and green collar jobs to New York," says Kaloyeros.
iCLEAN partners will have access to CNSE's laboratories and cleanroom facilities, gain networking opportunities through regional and national partnerships to raise funding through venture capital, and receive professional services. Also, the program will host an Entrepreneurial Development Series on clean energy to train and transition corporate executives into the clean energy industry.
"The iCLEAN program will allow CNSE's E2TAC to help accelerate the development of clean energy technologies that are important for New York's environmental and economic future," says E2TAC director Dr Pradeep Haldar. "We are particularly pleased to support the growth of emerging alternative energy companies, as evidenced by our partnership with Magnolia Solar, and look forward to working with our partners at the Hudson Valley Center for Innovation to enable additional collaborations in the future," he adds.
Magnolia's president & CEO Dr Ashok K. Sood reckons that its partnership with CNSE will allow access to world-class intellectual and technological capabilities, and help to bring its technology for low-cost, high-efficiency thin-film-based solar panels to market more quickly. "Accelerating time to market with CNSE and NYSERDA support is necessary for our future success," he adds.
"The incubator program is an exciting, cutting-edge melding of economic development, clean energy and nanotechnology, which will help innovative companies to grow and create jobs for the entire region," comments Albany County executive Mike Breslin.
See related item:
Magnolia wins NYSERDA award to develop low-cost nano-based thin-film solar cells

Search: NYSERDA Magnolia Solar
Visit: http://cnse.albany.edu
Visit:
www.magnoliasolar.com