News
10 March 2010
SemiSouth announces reference design for 1200V SiC FET
SemiSouth Laboratories Inc of Starkville, MS, USA, which designs and manufactures silicon carbide (SiC) based discrete power devices and electronics, has made available a new gate reference design for its energy-efficient SiC field-effect transistor (FET), which is a normally-off 63 milli-Ohm, 1200V, JFET consuming 7–10 times less switching energy than the silicon-based insulated gate bipolar transistors (IGBTs) typically used in AC distribution networks.
The peak gate current of the driver is +6A/–3A, which the firm says is helpful to those designing in or ramping new designs using SemiSouth's SiC FET since full schematics and a bill of materials are provided in the datasheet. "This new reference design allows our customers to add a standard gate driver with a bill of materials cost that is extremely low, since we are using all standard, off-the-shelf commercial components for the very compact (28mm x 19mm) reference driver board," says Dan Schwob, VP of sales & marketing. SemiSouth says that, since releasing the SiC FET in late 2008, it has seen widespread adoption of the power transistor because of its advantages in energy efficiency, reliability and cost compared with other SiC technologies.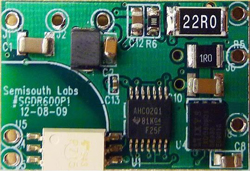 "The SGDR600P1 is an opto-isolated, two-stage driver, used for high-speed, hard-switching of our normally-off 1200V JFET, which enables customers to quickly and easily obtain record low switching (and total) losses at frequencies up to 250kHz," says Dr Jeff Casady, chief technology officer & VP of business development.
Picture: SGDR600P1 reference gate driver for 1200V, 63m-Ohm, normally-off SiC JFET.
SemiSouth says that emerging SiC technology enables energy-efficient operation of power conversion and power management in telecom power supplies, inverters in solar and high-frequency welding, future automotive electric vehicle platforms, and many other products. The firm adds that the promise of SiC is its ability to make power supplies and power inverters up to 50–75% more energy efficient, operate at up to 4–8 times higher frequency, and hence run cooler and be physically much smaller. In particular, SiC power JFETs are expected to increase the 'fuel' efficiency of hybrid electric vehicles and help to make them more affordable for consumers.
See related item:
SemiSouth claims first SiC JFET used in audio amplifier market

Search: SemiSouth SiC SiC FET SiC JFET
Visit: www.semisouth.com