News
24 March 2010
Shuji Nakamura joins Seoul Semiconductor as consultant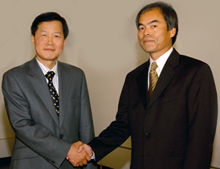 Blue LED pioneer Shuji Nakamura has joined Korean LED maker Seoul Semiconductor Co Ltd as a scientific adviser.
Picture: Chung Hoon Lee (left) of Seoul Semiconductor, welcomes Shuji Nakamura (right).
Currently a professor at the Materials Department of the College of Engineering, University of California, Santa Barbara (UCSB), Nakamura is best known for developing gallium nitride (GaN) high-brightness blue LEDs in 1993, while at Nichia Corporation in Japan.
Nakamura's pioneering work allowed manufacturers to produce LEDs with three primary colors (red, green and blue), which could be mixed to produce 16 million colors. Most importantly, Nakamura's breakthrough led to the commercial production of GaN-based white LEDs. He was also part of a UCSB team that developed the world's first nonpolar blue-violet laser diodes.
At UCSB, Nakamura is co-director of the Solid State Lighting and Energy Center (SSLEC), where he is developing next-generation LEDs and laser diodes based on the blue LED, as well as a GaN-based solar cell.
"Seoul Semiconductor Co Ltd is proud to be one of the industrial sponsors of the SSLEC. Prof. Nakamura's consulting will lead Seoul Semiconductor's bright future," says S.M. Lee, senior vice president of Seoul Semiconductor.
Doug Hardman, North American marketing director for Seoul Semiconductor, added: "The legendary Professor Shuji Nakamura's consultancy with Seoul Semiconductor is sure to accelerate our leadership position in LED technology for North America and all the world."
Previous international awards for Nakamura in recognition of his research include: the Harvey Prize from Israel's Technion (2010); Spain's Prince of Asturias Award for Technical and Scientific Research (2008); Finland's Millennium Technology Prize (2006); and the Benjamin Franklin Medal in the engineering segment (2004), previously conferred upon Thomas Edison and Albert Einstein. Nakamura has also received Japan's Takeda Award, as well as an Innovation Award from UK magazine The Economist.
Nakamura is a co-author of "The Blue Laser Diode: The Complete Story" (Springer, 2000), and his work is chronicled in the book "Brilliant! Shuji Nakamura And the Revolution in Lighting Technology" by Bob Johnstone (Prometheus Books, 2007).
Nakamura holds B.A., M.A. and Ph.D. degrees in Electronic Engineering from the University of Tokushima, Japan. He was appointed a professor in the Materials Department at UCSB in 2000.
History:
1977 - Received B.A. in Electronic Engineering from University of Tokushima, Japan.
1979 - Received M.A. in Electronic Engineering from University of Tokushima, Japan.
1979~99 - Researcher, Nichia Corporation, Japan.
1993 - Developed blue LED.
1993 - Received Ph.D. in Engineering from University of Tokushima, Japan.
2000~ Professor of Materials Department at UCSB, USA.
See related items:
Nakamura awarded 2010 Harvey Prize by Israel's Technion
Nakamura's LED revolution wins him Millennium Technology Prize

Search: Shuji Nakamura LEDs Seoul Semiconductor
Visit: www.acriche.com