News
22 March 2010
TriQuint's TriAccess CATV/FTTH products supporting convergence of telecom services in China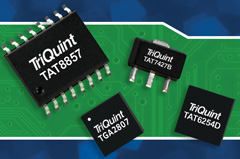 At this week's China Content Broadcasting Networks (CCBN) conference in Beijing (22–25 March), RF front-end product maker TriQuint Semiconductor Inc of Hillsboro, OR, USA is introducing its new TriAccess line of cable TV (CATV) and fiber-to-the-home (FTTH) products into the China market, including low-power-consumption on-chip linearized ICs, low-noise receivers and stable home amplifiers.
The firm says that TriAccess products support the China State Council 'Three into One' initiative for competitive, world-class high-speed broadband connectivity, increasing efficiency and lowering overall costs for EDGE QAM/DOCSIS 3.0, FTTH, cable TV infrastructure and subscriber premises cable systems.
The Chinese government's support for telecom, TV and internet convergence increases the opportunity for traditional CATV network operators, broadcasters, internet service providers and telecom companies to compete or combine services to gain market share and better serve subscribers, TriQuint says. This move toward convergence means that, to achieve success, system operators need to add low-cost, high-bandwidth technologies to their networks, a process made easier and more efficient with TriAccess products. The name TriAccess is derived from the three ways that TriQuint products help CATV engineers to create improved broadband 75-Ohm access: better efficiency, better linearity and smaller-size devices for CATV/FTTH systems.
"TriAccess on-chip linearized solutions have been shown to help CATV network manufacturers develop more efficient products that use less power," says Ting Xiong, TriQuint's country manager for China. "At the same time, TriQuint products enable higher-speed connections, or a larger service area for converged video, voice and high-speed internet," he adds. "TriAccess amplifiers and filters provide end-to-end solutions for all major segments of the 75-Ohm market."
TriQuint says that TriAccess devices for EDGE QAM/DOCSIS 3.0, CATV infrastructure, subscriber (home) amplification and FTTH give manufacturers and product designers simplified RF connectivity that supports a large variety of wideband services such as HDTV, high-speed data and video on demand (VOD).
EDGE QAM/DOCSIS 3.0 amplifiers: The TriAccess product portfolio is designed to facilitate high-speed wideband CATV connections for a more efficient use of the cable TV spectrum. Products include what is claimed to be the world's first on-chip linearized amplifier (the TAT7467H), which is designed with reliable GaAs pHEMT technology and offers 40%+ efficiency for lower operational costs and enhanced competitiveness. TriAccess products, including TGA2807-SM for slightly higher output levels, also meet stringent DOCSIS 3.0 specifications.
FTTH & RF over Glass (RFoG): To better compete, incumbent cable operators and new market entrants need solutions that effectively provide HDTV, digital voice and high-speed internet by leveraging existing network equipment and cable modems. The most effective way to deliver the highest bandwidth capability over existing networks is with FTTH, including systems using RFoG; these solutions are particularly beneficial for new construction and network upgrades. The TriAccess line includes products like the TAT6254D that are specifically designed to support the needs of the RFoG specification.
CATV Infrastructure: The TriAccess portfolio now offers solutions at the die, packaged die and multi-chip module levels. The new design of the high-gain TAT8858 (integrated push-pull amplifier), combined with the TAT8857 (integrated power doubler), suit CATV infrastructure applications, providing the economy of GaAs-based design and superior efficiency performance, says TriQuint.
Home/subscriber amplifiers: The TriAccess line of high-performance ICs (drop amplifiers) for subscriber applications offers multiple gain levels that cost-effectively enable central gateway and multi-room architectures as well as MOCA (Multimedia over Coax Alliance) and Ethernet over coax applications. The new TAT7430B and TAT7427 provide increased gain (22.5dB and 18.0dB, respectively) to complement the TAT7461 16dB product; all devices meet stringent distortion requirements. TriQuint says that its CATV subscriber/home solutions give manufacturers the ability to increase network performance to meet the new home architecture standards desired by leading MSOs.
Samples and evaluation boards are available for TriAccess products now in release.

Search: TriQuint TriAccess CATV FTTH
Visit: www.triquint.com