News
17 March 2010
Umicore completes new US germanium substrate plant
Materials technology firm Umicore of Brussels, Belgium has completed construction of its new germanium substrate production facility in Quapaw, OK, USA, adjacent to the firm's existing site. Construction was started in July 2008.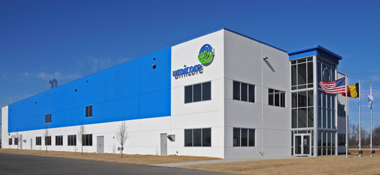 Picture: Side view of Umicore's new facility for Ge wafers in Quapaw.
The 40,000 square foot facility is now undergoing process start-up and qualification runs. The new substrate facility is on the same campus as the Umicore germanium optics and high-purity chemicals operation for the US market and will be integrated in the existing IS014001, 2004 system during 2010. Umicore says that this allows for a completely integrated supply chain operation, emphasizing prompt internal recycling (minimizing inventory stocking requirements of valuable germanium metal).
The production operation is modeled on Umicore's Olen facility in Belgium, which has supplied millions of substrates for space and terrestrial photovoltaic applications. The firm says that its new plant in Quapaw embodies proven equipment and an advanced product tracking system.
"With Quapaw in addition to Olen, our total installed annual production capacity stands at 1 million germanium wafers (4" equivalent)," says Carl Quaeyhaegens, general manager of Umicore's worldwide substrates business line. "With our two Ge wafer plants in Europe and the USA, we're now in an excellent position to meet market demand for the foreseeable future," he adds.
Germanium wafers are a core component of triple-junction III-V high-efficiency solar cells used on the vast majority of satellites launched today. Triple-junction solar cells based on germanium wafers are also widely applied in terrestrial concentrated PV systems (CPV), which are emerging for areas with high direct sunlight irradiation (DNI).
See related item:
Umicore to double germanium substrate capacity

Search: Umicore Germanium substrates Triple-junction solar cells
Visit: www.substrates.umicore.com