News
7 May 2010
Electro-optic optical modulators to gain market share as 40 and 100Gbps deployments intensify
Market research firm ElectroniCast Consultants has released a new market forecast of the global market consumption and technology trends of external optical modulators used in commercial communication transmission links, in terms of quantity (number of units), average selling prices (ASPs) per unit, and consumption values.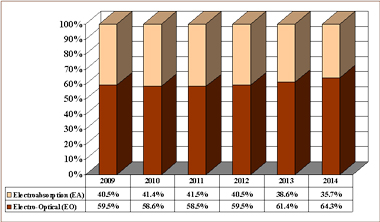 Chart credit: ElectroniCast Consultants.
"The forecast is broken-out by bit-rates and technology-type," said Stephen Montgomery, president of International Business at ElectroniCast. "In terms of volume (quantity/units), electroabsorption (EA) modulator types held a 57% share versus the electro-optic (EO) types in 2009; however, the EO-types are priced higher, so in terms of consumption value, EO-types are grabbing nearly 60% of the market in 2010. As we look at 2014, the electro-optic types will gain more market share as the 40 and 100Gbps deployments intensify," Montgomery adds.

Search: Electro-optic optical modulators
Visit: www.electronicastconsultants.com