News
26 May 2010
SolFocus completes largest CPV plant in North America
Victor Valley College in Victorville, CA and concentrator photovoltaic (CPV) system maker SolFocus Inc of Mountain View, CA, USA have held an opening ceremony for the largest solar power plant in North America using CPV systems. After two months of construction, the six acre, 1MW solar power plant is now providing power to Victor Valley College in Victorville, California.The plant is on the main campus and consists of 122 SolFocus SF-1100S CPV arrays.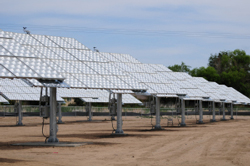 The college's solar micro-generating facility is now connected to the regional electrical grid operated by Southern California Edison and will produce about 2.6 million kilowatt-hours annually (about 30% of the college's electricity demand).
Picture: SolFocus CPV arrays at Victor Valley College.
The college will also be developing curriculum within its existing academic and technical programs around the solar technology, including installation, operations, and maintenance. SolFocus says that it will support the college in its curriculum development, including materials, training, and instruction.
"Victor Valley College boasts one of the largest and most innovative on-campus solar plants in North America," says the college's superintendent & president Dr Christopher O'Hearn. "In addition to providing energy cost savings and a new revenue stream, these 122 arrays will provide the ideal testing ground for our students to build green careers that support the nation's new energy economy," he adds.
"We can provide 1MW of clean power in the desert with minimal land and water impact," notes SolFocus' president & CEO Mark Crowley. "At the same time, we can train the next generation of solar professionals with innovative technology... such distributed generation projects will mobilize other colleges, communities, and organizations across the US to incorporate renewable energy into their power supply on the path toward even larger utility-scale projects," he adds.
"These types of infrastructure investments in sustainable technologies are a key driver for California's economy, and are creating jobs today within the local community," comments Abel Maldonado, Lieutenant Governor of California. "The clean tech sector is where the state can demonstrate its advanced innovation and growing green workforce. This trailblazing solar plant will provide students with training for a fast-growth career in California's new energy economy," he adds.
"California is leading the nation in progressive environmental policy objectives and this project showcases how policies set forth by SB 1 (California Solar Initiative) and AB32 (California Global Warming Solutions Act) are enabling economic growth and generating jobs," says Barbara Riordan, a member of the California Air Resources Board.
"From groundbreaking to grid connection, this project was up and running in less than three months," says district program manager Al McQuilkin of gkkworks. "As the project manager for the solar plant we were pleased to find a solar technology that offered such high value," he adds. "It exceeded our expectations with its advanced technology and a five-year payback period."
SolFocus' CPV design uses a system of patented reflective optics (curved mirrors) to concentrate sunlight 650 times onto gallium arsenide-based solar cells (on germanium substrates) that have high solar energy conversion efficiency (approaching 40%, more than twice that of traditional silicon solar cells). Like its smaller SF-1000S system (approved by the CEC in September 2008), the firm's second product (the SF-1100S, launched that November) uses about a thousandth of the active solar cell material compared to traditional silicon-based PV panels, but boosts panel conversion efficiency from 18% to more than 25%.
See related item:
Victor Valley College installs 1 MW solar power plant
Visit: www.solfocus.com
Visit: www.vvc.edu