News
28 May 2010
StratEdge launches leadless, low-profile, hermetic, SMT packages for up to 30GHz
At this week's IEEE MTT-S International Microwave Symposium (IMS 2010) in Anaheim, CA (25-27 May), StratEdge of San Diego, CA, USA, which designs, manufactures and provides test & assembly services for semiconductor packages operating up to 50GHz for microwave, millimeter-wave, and high-speed digital devices, has introduced the SM family of fully hermetic, low-profile, leadless surface mount (SMT) packages with improved electrical performance, suiting aerospace, avionics, automotive and telecom applications (especially LED, MEMS and optical devices).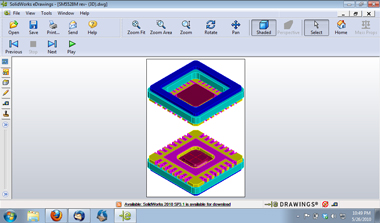 The new packages incorporate a metal plug in the base that allows a direct ground path for enhanced electrical performance. Anticipated performance is DC to more than 30GHz. All SM packages meet stringent MIL-STD requirements for hermeticity.
The first package offered has a 5mm x 5mm outer dimension and 28 I/Os. Other configurations planned include packages with 4mm x 4mm, 6mm x 6mm and 8mm x 8mm outer dimensions. Additions to the family will be offered as standard products, with samples and volume production quantities available in Q3/2010.
The SM packages match industry-standard outlines, enabling them to be used as direct replacements for traditional quad flat package designs. They can be used in place of plastic over-molded packages in applications requiring an air cavity (providing improved microwave performance and allowing for ease of rework and repair, suiting prototyping). In addition, air cavities are often necessary for sensors and other devices that need to respond to movement.

Search: StratEdge
Visit: www.stratedge.com