News
25 May 2010
Toshiba doubles power of Ku-band GaAs FETs for microwave radio
At this week's IEEE MTT-S International Microwave Symposium (IMS 2010) in Anaheim, CA, USA (25-27 May), Toshiba America Electronic Components Inc (TAEC) and its parent company Toshiba Corp of Japan are announcing the expansion of their Ku-band gallium arsenide field effect transistor (GaAs FET) lineup with two higher output power devices rated for 18 and 30W (with samples available now).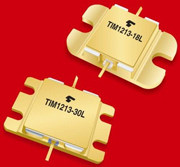 Operating at 12.7-13.2GHz, the TIM1213-18L and TIM1213-30L are targeted for use in microwave radios for microwave links and satellite communications. Other existing Toshiba GaAs FETs in this frequency range have power output ratings of 2W, 4W, 8W, 10W and 15W.
The TIM 1213-18L has typical output power at 1dB gain compression point (P1dB) of 42.5dBm, power gain at 1dB gain compression point (G1dB) of 6.0dB and power-added efficiency of 28%. The TIM 1213-30 L has P1dB of 45.0dBm, G1dB of 5.5dB and power-added efficiency of 23%.
"Toshiba is expanding our Ku-band product family with these new devices to enable our customers to design more powerful and linear microwave radios with fewer components," says Homayoun Ghani, business development manager, Microwave, Logic, and Small-Signal Devices, in TAEC's Discrete business unit.

Search: Toshiba GaAs FETs Ku-band Microwave radio
Visit: www.toshiba.com/taec