News
25 May 2010
Toshiba adds high-gain 50W GaN HEMT power amplifier for C-band satcoms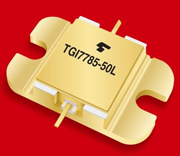 At this week's IEEE MTT-S International Microwave Symposium (IMS 2010) in Anaheim, CA, USA (25-27 May), Toshiba America Electronic Components Inc (TAEC) and its parent company Toshiba Corp of Japan are announcing the addition of a 50W C-band gallium nitride (GaN) high-electron mobility transistor (HEMT) to its power amplifier product family.
The TGI7785-50L is another commercial C-band GaN HEMT for satellite communications, joining Toshiba's 120W C-band amplifier launched last year as well as the firm's other Ku-band GaN devices. Operating at 7.7–8.5GHz, the new device's typical RF performance includes output power of 47.0dBm with 40dBm input power, linear gain of 11.0dB and drain current of 5A (at a supply voltage of 24V at 25ºC). Toshiba says that the device enables increased output power and helps reduce size and weight in solid-state power amplifiers (SSPA) for satcom applications.
"Our initial entry into C-band GaN HEMTs was at the high end of the output power range, because microwave system designers have initially used GaAs devices for intermediate-stage amplification to drive higher-output GaN devices," says Homayoun Ghani, business development manager, Microwave, RF and Small-Signal Devices, in TAEC's Discrete business unit. "This 50W GaN HEMT provides additional design flexibility by enabling use of higher-performance GaN at a mid-amplification stage," he explains. "It provides higher linear gain of 11dB compared to our conventional GaAs FETs with similar output power (45W and 60W) [the TIM7785-45SL and TIM7785-60SL, respectively], which have gain of 6dB (typical)."
Toshiba's commercial GaN power amplifiers have been in volume production since 2008, starting with the Ku-band TGI1414-50L, which operates in the 14.0-14.5GHz range for satcoms. The firm says that GaN technology provides superior device performance such as high gain and efficiency in the satcom and radar markets. Toshiba is exploring new markets for the technology and will continue its efforts to develop additional GaN devices with higher output power in the C-, Ku and other bands.
Samples of the TGI7785-50L are available now, with mass production scheduled for Q3/2010.

Search: Toshiba GaN HEMT PA C-band satcoms
Visit: www.toshiba.com/taec