News
10 November 2010
Avago launches robust fiber-optic modules for harsh temperature environments
At this week's Electronica 2010 trade fair in Munich, Germany (9–12 November), Avago Technologies has launched a new line of optical fiber transmitters and receivers optimized for harsh temperature environments.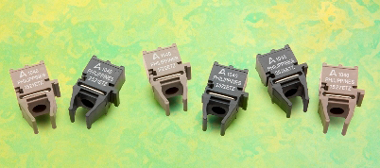 The RoHS-compliant HFBR-152xETZ/252xETZ optical fiber modules provide reliable data transmissions over cost-effective 1mm-diameter plastic optical fiber (POF) or 200 micron hard-clad silica fiber in the –40°C to +85°C extended industrial temperature range. The firm says that designers can use the devices to implement system control or drives in wind turbines and solar farms, traction inverters in trains, and for other industrial applications and medical systems.
An extension of the Avago Versatile Link series, the new modules eliminate the electromagnetic interference, crosstalk, and electrical ground problems that are common with copper wire solutions, while also providing easier, more flexible installation, says the firm.
The HFBR-152xETZ transmitters are based on a high-power 650nm LED that is easy to drive and modulate, and operate at speeds from 1–125MBd over distances up to 100m. The HFBR-252xETZ high-bandwidth receivers contain a PIN photodiode and internal transimpedance amplifier. The modules come in plastic housings that interlock for single-channel or duplex links in a horizontal mount configuration, providing flexibility during PCB layout.
The HFBR-1527ETZ transmitter and HFBR-2526ETZ analog receiver are designed for transmissions from 1 to 125MBd. The HFBR-1521ETZ transmitter and HFBR-2521ETZ digital receiver transmit from DC to 5MBd, and the HFBR-1522ETZ transmitter and HFBR-2522ETZ digital receiver transmit from DC to 1MBd.
"The addition of these new Versatile Link series modules with extended temperature range operation is based directly on requests from our customers in the rapidly growing renewable energy and transportation markets," says Mickael Marie, marketing manager for industrial fiber products.
Pricing for both the HFBR-1521ETZ transmitter and the HFBR-2521ETZ receiver begins at $5.06 each in 200-piece quantities. Transmitter and receiver application circuit schematics and recommended board layouts available.

Search: Avago
Visit: www.avagotech.com
For more: Latest issue of Semiconductor Today