16 November 2010
Jordan Valley appoints KLA founder Levy as chairman
X-ray and vacuum ultraviolet (VUV) metrology tool maker Jordan Valley Semiconductors Ltd (JVS) of Migdal Haemek Israel has named Ken Levy as chairman of its board of directors, replacing Kalman Kaufman (who has been chairman for the last three years, and remains a member of the board). "I look forward to continuing to work with Ken, a seasoned business executive and visionary technologist," comments Kaufman.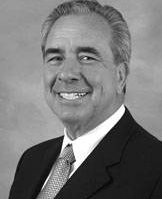 Levy has been an entrepreneur and corporate executive for over 35 years. He founded KLA Instruments in 1976 and served as it's CEO and then chairman until 2006. Upon his retirement from the firm he was named chairman emeritus. During his tenure, KLA-Tencor went from a development-stage firm to sales of over $2bn and a market capitalization in excess $10bn. It is now one of the five largest companies in the semiconductor capital equipment industry.
Picture: Ken Levy.
Levy has also received awards including the 'SEMMY' Semiconductor Equipment and Materials Institute award in the area of wafer fabrication, and the SEMI Lifetime Achievement award. He has been inducted into the Silicon Valley Hall of Fame, and was elected as a member of the National Academy of Engineering.
"Jordan Valley, led by the leadership of founder & CEO Isaac Mazor, presented impressive and unique progress in 2010," says Avi Fischer, deputy chairman of IDB Group (the largest shareholder, through Clal Industries and Elron). "We thought that at this time the company could benefit from the skills and expertise of one of the most experienced, talented and highly regarded managers in the industry," he adds.
"Jordan Valley's products are enabling x-ray systems to move onto high-volume production applications," says Levy. "Their systems will enable the semiconductors industry to control its most advanced processes. I expect the company to continue to innovate and expand its business opportunities," he adds.
"His experience and knowledge in the semiconductors capital equipment business will be a valuable asset to Jordan valley," remarks founder & CEO Isaac Mazor about Levy. "The next few years will prove to be a period of increased market penetration and high growth for Jordan Valley following it's outstanding growth in 2010," he believes. "As a chairman of the board, Ken will play a key role in driving the company's strategy."
Over the past 25 years, Levy has been active in helping to build Israeli hi-tech firms. In addition to investing in technology companies, he spearheaded the establishment of KLA-Tencor Israel and served on boards of firms including Saifun, Aprion, Scitex Digital, PowerDsine, Genoa and DigiFlex. For his contributions to Israeli industry, he was awarded the 'State of Israel Jubilee Award' by Prime Minister Netanyahu.
Visit: www.jvsemi.com