30 November 2010
LayTec wins German technology transfer award 'Science Creates Jobs 2010'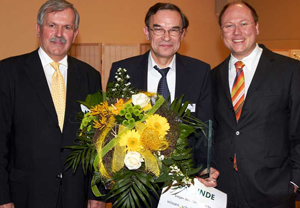 LayTec GmbH of Berlin, Germany (which provides in-situ optical metrology systems for thin-film processes) and its research partners Otto-von-Guericke University of Magdeburg and Ferdinand-Braun-Institute in Berlin have won Germany's 'Science Creates Jobs 2010' award, which honors the most successful technology transfer from academia to small- & medium-sized enterprises.
Picture: Professor Klaus-Jürgen Matthes (left) und Deutsche Postbank's Dr Mario Daberkow (right) congratulate LayTec's president & founder Dr Thomas Zettler.
The €20,000 prize was awarded for the third time by the Technical University of Chemitz and Deutsche Postbank AG under the patronage of the German Federal Minister of Economics and Technology. Of the 35 German applicants, LayTec's EpiCurveTT development project was recognized by the jury as the most relevant technlogical breakthrough and as an economic success.
LayTec says that in 2005, in a prototype tool developed by professor Alois Krost and co-workers at the University of Magdeburg, it recognized a method with the potential to revolutionize the production of LEDs. "Despite some scepticism in the LED industry at that time, we further developed the method of in-situ wafer curvature measurement to make it suitable for industrial applications," says president & founder Dr Thomas Zettler. "Just two years later, in cooperation with the Ferdinand-Braun-Institute, we successfully conducted field tests to adapt our new in-situ metrology system to industrial requirements," he adds. Since its market launch, EpiCurveTT has generated a revenue of more than €10m.
The number of staff at LayTec has risen from 20 in 2005 to more than 60 in 2010. The firm says that research partners also benefit from the development: due to the patent license agreement, the University of Magdeburg receives 2.5% of all EpiCurveTT revenue annually.
"The jury was convinced by the fact that the partners were not discouraged by the initial scepticism of the LED industry and continued intensive and goal-oriented development of the sensor that fulfills industrial demands and meets numerous challenges occuring during the growth of compound semiconductors," commented jury member professor Urs Fueglistaller (director of the Swiss Research Institute of Small Business and Entrepreneurship in St. Gallen) at the award ceremony.
In addition to enabling the brilliant picture quality of the newest LED-backlit flat-panel displays, LayTec reckons that in a few years, due to their energy efficiency, LEDs will completely replace the currently still modern low-energy light bulbs. The firm says that its EpiCurveTT helps to produce affordable, bright LEDs with a precise color spectrum.
Tags: LayTec EpiCurveTT
Visit: www.laytec.de