17 November 2010
LG Innotek starts SiC project with Sweden's Linköping University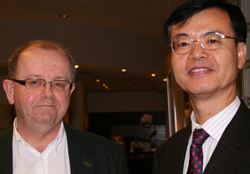 Electronic components firm LG Innotek, which is part of South Korea's LG group of companies, and materials researchers at Sweden's Linköping University (LiU) have begun a nine-year collaborative project to develop manufacturing of silicon carbide (SiC) for electronic components, starting with a kick-off project meeting in Linköping on 12 November.
Picture: Professor Erik Janzén (left) and LG Innotek's CTO Joo-Won Lee at project kick-off meeting in Linköping.
LG Innotek says that investment in the high-performance electronics material SiC is a part of a new strategy for the firm. Using SiC as a substrate can boost the output of light-emitting diodes, and LED-based displays and illumination are a priority area (in which parent company LG is the second biggest manufacturer in the world). However, SiC is also of great interest in the development of components for electric vehicles and the streamlining of green energy production.
"LG Innotek representatives have visited research groups and companies around the world to find a partner for this investment," says Olle Kordina, senior lecturer and contact person for the project, led by professor Erik Janzén. "We've been negotiating with them since the spring, and now the project is underway."
The project is financed in part by the Republic of Korea. LiU researchers' funding includes SEK20m (€2.13m), and their role is to develop a method for epitaxial growth of high-quality SiC, for which LG will fund a new reactor. "We are the only group outside South Korea who will be working for LG on this," says Kordina. Janzén and co-workers in the Department of Physics, Chemistry and Biology have focused on SiC for many years. The results of their research have previously been commercialized by Norstel, which has a manufacturing plant in Norrköping, Sweden.
LG has its sights set on the rapidly growing hybrid electric car market. With heat-resistant SiC transistors, an electric hybrid can manage with just one cooling system, reducing weight and hence energy consumption. "Many car manufacturers are interested in silicon carbide for their future electric cars — for example, Hyundai, Toyota, Volkswagen, and BMW," says LG Innotek's chief technical officer Joo-Won Lee.
The challenge for the approximately 50 researchers in the LiU group is to further improve the surface quality of their SiC material and hence maximize performance. "We have now developed a new chemical method where we mix in chlorine gas, which increases the speed of growth by 10–20 times," says Janzén. "It will be very interesting for us to test this on a large scale."
Visit: www.lginnotek.co.kr
Visit: www.liu.se