News
8 November 2010
M/A-COM Tech launches 20GHz HMIC broadband diode switches in Surmount packages
M/A-COM Technology Solutions Inc of Lowell, MA, USA (which supplies semiconductors, components, and subassemblies for RF, microwave and millimeter-wave applications) has launched a family of heterolithic microwave integrated circuit (HMIC) broadband diode switches that use RoHS-compliant Surmount packages.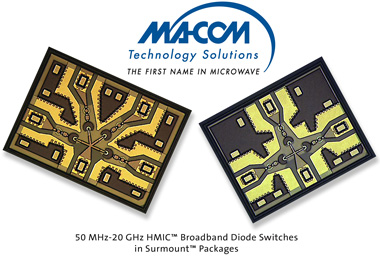 The rugged, monolithic switches operate up to 26GHz, provide low insertion loss and high isolation, and deliver up to +38dBm CW power handling. The Surmount package technology provides a surface-mount chip-scale configuration that is optimized for broadband performance with minimal associated parasitics, which are usually related to hybrid MMIC designs incorporating beam lead and PIN diodes that require chip and wire assembly. The broadband switches are suited to military and test equipment applications, says M/A-COM Tech.
"This product family of broadband diode switches is fabricated using M/A-COM Tech's patented HMIC process that produces low-loss and high-isolation performance through low millimeter-wave frequencies," says product manager Tim Daly. "We combine this innovative process with Surmount diode technology, which eliminates all bond-wire parasitics and enables broadband capability in a surface-mount configuration."
Engineering samples and production devices are available from stock and are offered in tape and reel or gel packs.

Search: M/A-COM
Visit: www.macomtech.com
For more: Latest issue of Semiconductor Today