12 November 2010
Modulight launches 635–1550nm OEM laser systems for medical & industrial applications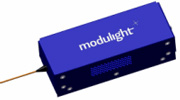 Laser manufacturer Modulight Inc of Tampere, Finland has launched a set of OEM laser systems for medical and industrial applications. The sub-systems produce up to 1.5W optical power and cover most conventional wavelengths between 635nm and 1550nm.
The standard configuration is based on Modulight's Butterfly module line-up options and includes an integrated laser driver, controller, cooling, and external modulation interface. Customizable options include, but are not limited to, wavelength, power and output specification, control interface, form factor, and various operating parameters.
Currently the following wavelengths and maximum powers are offered with standard configurations: 635nm, 500mW; 650/665nm, 750mW; 808nm, 1.5W; 940/980nm, 1.5W; and 1470/1550nm, 500mW. Other wavelengths are available as per request.
"By presenting a standard OEM system-level platform for single-emitter lasers, our customers benefit from existing versatile design, in-house customization capability from chip to system level, and very large wavelength range from 630nm to 1650nm," says Sampsa Kuusiluoma, product line manager for Integrated Laser Solutions. "We have supplied a number of custom OEM systems already for a few years, but we believe that a standard solution will enable larger customer base within equipment manufacturer market," he adds. "The OEM systems have been designed to enable simple integration interface both mechanically and electrically."

See related items:
Modulight lasers to be launched on ESA's SMOS Satellite Mission
Tags: Modulight
Visit: www.modulight.com