15 November 2010
Nitronex launches second GaN HEMT on 2nd-gen platform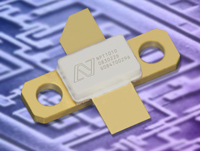 Following the launch of the 25W NPT1012 at the end of July, Nitronex Corp of Durham, NC, USA, which designs and makes gallium nitride on silicon (GaN-on-Si) RF power transistors for the defense, communications, and industrial & scientific markets, has announced production readiness of the 100W NPT1010 GaN high-electron-mobility transistor (HEMT) as the second product based on its new-generation power transistor platform technology, which has been developed to meet the growing demand for wideband, high-power and robust RF power amplifiers.
The new platform is specifically designed to meet the stringent performance requirements of military communications, jammers and radars. The primary benefit of products based on the platform is very low thermal resistance, which results in higher output power and efficiency in broadband applications combined with improved ruggedness, says the firm.
Nitronex claims that the NPT1010 has the lowest thermal resistance (1.4°C/W) of all GaN products at this power level on the market (lower than competing 28V products by 30%, normalized to power). The device achieves over 60W, more than 55% drain efficiency and over 14dB power gain in a 500–1000MHz broadband application circuit with less than 80°C rise in junction temperature.
"We focused our efforts on reducing thermal rise and developed a complete plan to attack all the key factors: FET design, die thickness, die attach methods and package materials," says VP of engineering Ray Crampton. "We recognized early on that the contribution of the substrate is secondary to the contribution of other factors, particularly the FET design," he adds. "By combining improvements from several areas, we achieved a 22% improvement in thermals compared to our last-generation products."
The NPT1010 is available in a ceramic air-cavity package in bolt-down and pill (solder) versions. It is lead-free and RoHS compliant, is production ready, and is available from stock to 10 weeks lead time.
Visit: www.nitronex.com