30 November 2010
Optogan opens largest LED plant in Eastern Europe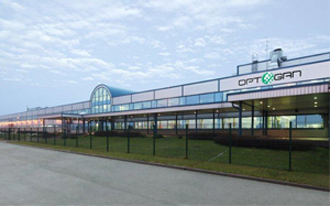 Sergey Ivanov, deputy Prime Minister of the Russian Federation, has officially opened the new manufacturing plant in St Petersburg of LED maker Optogan Group.
The ceremony was also attended by St Petersburg's Governor Valentina Matvienko; Yegor Borisov, President of Russia's Sakha Republic (Yakutiya); Anatoliy Chubais, general director of Rusnanotech; Mikhail Prokhorov, president of ONEXIM Group, as well as representatives from politics, research and industry.
Picture: Optogan's new LED component and module factory in St Petersburg.
Optogan's unique chip production technology was created by Vladislav Bougrov and Maxim Odnoblyudov, who were PhD students of Nobel prize winner and Russian Academy of Science member Zhores Alferov at the Ioffe Physico-Technical Institute in St Petersburg in the 1990s before working at Finland's Helsinki University of Technology then, in late 2004 (together with Alexey Kovsh), founding Optogan in Helsinki to develop GaN-based LEDs.
Optogan is now a vertically integrated manufacturer of high-brightness LED chips, components, lamps and luminaires. In addition to Optogan Group having locations in Helsinki, since 2005 Optogan GmbH in Germany has been developing chip technologies in Dortmund and has a chip production facility in Landshut. In July 2009, Optogan began operations in Russia. This May, it acquired the industrial facility and infrastructure of Elcoteq in St Petersburg, where it has been setting up LED production lines.
At the St Petersburg plant's opening, Odnoblyudov, Bougrov and Kovsh introduced the production facilities, as well as demonstrating Optogan's LED lamps.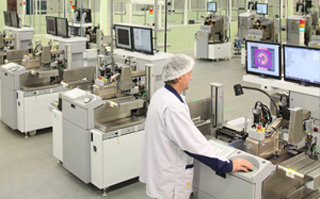 With an overall investment of 3.35bn rubles (€80m), the new facility is the largest LED component and module manufacturing plant in Eastern Europe and the Commonwealth of Independent States (CIS), covering 15,000m2 of floor space (including 5000m2 of cleanroom). The first production line has an annual production capacity of 360 million LEDs (30 million per month), and further capacity extensions are scheduled for the end of 2011. Staffing will be up to 800.
Picture: Optogan's new high-volume LED assembly lines.
"LEDs produced in St Petersburg will be sold in Russia and abroad," says Vladislav Bougrov, general director of the plant. "We've already signed our first major contracts," he adds.
"Part of the LED shipments will be sent to our partner companies all over Russia to produce luminaries," notes Optogan's executive VP Alexey Kovsh. Optogan says that it has established a unique business model to supply core LED technology for luminaires and to support to an extensive network of partners within Russia. In future the luminaire business partner approach will be extended to global level, Kovsh adds.
In contrast to the trend to establish new LED production plants solely in the Far East, Optogan reckons that it has found a suitable legislative and infrastructure environment to establish high-tech manufacturing in Russia, enabling high-volume LED output at competitive cost. RUSNANO (the Russian Corporation of Nanotechnologies) — a fund providing investment for technology projects in the Russian Federation — has provided support for the firm and is one of its major shareholders. "The key goal of RUSNANO is to develop modern production facilities based on leading international scientific knowledge, ensuring they can compete globally," says RUSNANO's general director Anatoly Chubais. "The opening of Optogan's factory is one of the major synergies of science and business. Technology based on the work of Nobel prize winner Zhores Alferov has been transformed into mass production, making this a first step in the development of a new energy-efficient economy and development of the lighting industry in Russia," he adds.
In late 2008, Optogan was acquired by ONEXIM, a private investment fund founded by Mikhail Prokhorov in May 2007 that invests in metals & mining, power engineering, including hydrogen power engineering and nanotechnologies as well as in financial services, mass media and real-estate industries. "ONEXIM's strategy is to invest in these types of innovative companies, which can produce quality products and win a major market share in Russia, as well as the potential to grow globally," says Mikhail Prokorov, president of main shareholder ONEXIM Group. "We are sure that, thanks to this type of production, our country has all the opportunities to develop on the global market."
See related items:
Optogan first in Europe to order Aixtron CRIUS II for GaN LED production
Russian GaN-based LED lighting JV established after OptoGaN acquisition
Visit: www.optogan.com