News
8 November 2010
Osram's new TOPLED Compact 4520 LED produces bright high-current pulsed light for super flat displays
Osram Opto Semiconductors GmbH of Regensburg, Germany says that its new TOPLED Compact 4520 enables super flat displays due to being one of the smallest LEDs for screen backlighting, and is the first LEDs for this application to have a UX:3 chip. It is therefore suitable for pulse mode, can be loaded with a very high current, and can help to produce sharp pictures.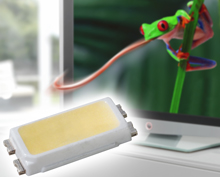 The trend toward flatter displays calls for very slim backlighting systems and high quality of light, says Osram Opto. Correspondingly, since it is flat encapsulated does not have a lens (like the other members of the TOPLED family), and uses the tried and tested TOPLED package (which measures 4.5mm x 2.0mm x 0.8mm), the Compact 4520 light source suits single- or double-sided injection into light guides up to 2mm. It also covers a color space of more than 100% sRGB. Due to its UX:3 chip, which offers high linearity between current and brightness, with a brightness of 35lm (at 150mA) and an efficiency of 72lm/W, it is brighter in high-current pulse mode than any LEDs based on other chip technologies, the firm claims.
"The TOPLED Compact 4520 has been designed specifically for super flat displays," says Winfried Schwedler, marketing manager Backlighting. "Its extreme brightness and high-current pulse mode help produce razor sharp high-contrast images with no wipe effects," she claims. Pulse mode provides greater contrast on dark images by darkening or dimming individual segments of the image. It also prevents wipe effects on fast-moving images. To achieve this, parts of the backlighting are briefly switched off. This takes place so quickly that the human eye cannot detect the dark phases. The overall result is a bright image with consistent color quality, says Osram Opto.
Visit: www.osram-os.com
For more: Latest issue of Semiconductor Today