16 November 2010
Osram's OSLON SSL LEDs light up Asian Games stadium
Osram Opto Semiconductors GmbH of Regensburg, Germany says that its OSLON SSL LEDs are illuminating the exterior of the venue for the Asian Games, which are being held in a newly constructed stadium in Haixinsha Square in Guangzhou, China (12–27 November). The games involve 11,700 athletes from 45 nations competing in 42 sports. The LEDs were used to produce a variety of colors, highlighting the gill-like side openings of the half-stadium, flanked by the city's UFO-like opera house and the latticed Guangzhou TV Tower.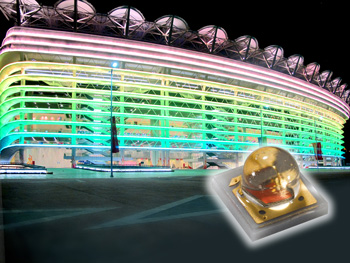 The OSLON SSL series is a family of compact and symmetrical LEDs with an efficiency of up to 84lm/W (typical) at an operating current of 350mA and a viewing angle of 80° or 150°, and are particularly suited to architectural lighting.
Picture: LED architectural lighting for Asia Games stadium.
OSLON SSL amber/green/blue LEDs and warm-white LEDs were used in separate flood lights to provide the different combinations of colors for the architectural lighting. Each floodlight was equipped with four independent sections of display pixels and color adjustments. Together with a real-time video control system, different colors were able to be created to work with the requirements of the various opening ceremony programs.
About 200,000 LEDs were used in 3200 floodlights in the project. To achieve the effect and efficiency required, several design options were explored. "We finally opted for a bi-directional asymmetric lens design and DMX online system which can make the whole lighting system easier to use and to create dynamic lighting effects," says Jiansheng Chen, general manager of Guangzhou Joinmax Display Technology Ltd, which installed the floodlights.
Currently, architectural lighting is the biggest application segment of solid-state lighting, accounting for 33.7% of the market, and revenue will rise at a compound annual growth rate (CAGR) of 16% by 2014, according to market research firm Strategies Unlimited.
Also, Osram Opto's Golden DRAGON Plus LEDs are installed in the street & parking lamps of the Haixinsha People square in Lin Jiang Road in the Zhujiang New City Central Business District (CBD) of Guangzhou, where the Asian Games were unveiled. The LED lamps provide a uniformly illuminated environment for pedestrians and for drivers in the parking lot.
Haixinsha is the largest public plaza in Guangzhou, measuring 170,000m2. Osram Opto says that the Golden Dragon Plus LEDs were chosen for their large viewing angle of 170º and high luminous flux of 116lm at a color temperature of 6000K for an operating current of 350mA (and up to 273lm for 1000mA), enabling uniform and high-efficiency lighting over such an expansive area. Also, Golden DRAGON Plus LEDs are designed specifically for general illumination applications. The long lifetime of 50,000 hours suits outdoor lighting, as they require very low maintenance and thus cause minimal disruption to traffic.
The LED lamps were installed by Guangdong Zhonglong Communications Technology Ltd. Already, last year, Zhonglong installed LED street lamps using Golden DRAGON Oval Plus LEDs in Zhujiang New City CBD. That was following by several other projects. "As the opening and the closing ceremonies will take place in Haixinsha Square area and thousands of visitors will witness the benefits of LEDs in general illumination, we hope this will drive the adoption of LEDs in other applications," says Guangdong Zhonglong Communications Technology's general manager Chen Ben.
"We understand the importance of uniform lighting in street lamps and therefore have developed products which can meet this requirement," says Kai-Chong Cheng, marketing director of Osram Opto Semiconductors Asia Ltd. "Our ThinGaN chip technology not only enables products with long lifetime but also small form factor and low energy consumption, making LED becomes a viable and cost-effective light source for outdoor applications," he adds.
Since the launch of the '10 Cities, 10,000 LED Lamps' program in China, local governments are mow using LEDs in new roads. Among them, the Guangdong provincial government has started its '10,000 LED lamps in 1000km' project.
Visit: www.osram-os.com